LinksNation.com
| | | | |
| --- | --- | --- | --- |
| Jason Day Romps at Barclays - Leads Fedex Cup | | | |
Jason Day celebrates his six stroke victory at the Fedex Cup
Edison, New Jersey - Jason Day continued his run through the best players on the PGA Tour,
shooting 62 Sunday to capture the first of the Fedex Cup playoffs at Plainfield Country Club.
The six stroke victory was Day's fourth win of the season (Farmer's Insurance Open, Canadian
Open and PGA Championship) and has vaulted him atop the Fedex Cup standings heading into
Boston for the Deutsche Bank Championship.
Although it seemed like a walk in the park, the Aussie admitted it's far from it: "It's not easy,
I can tell you that," Day admitted. "Even though it may look easy, it's not easy. I'm still nervous.
I still had thoughts on the front nine, Am I going to win it? But over the years it's starting to
become a lot easier."
Day who putted lights out at Plainfield has been working on his lag putting with his coach and
caddie Colin Swatton. "We changed the way he was doing his lag putting," said Colin Swatton.
"We've always worked on lag putting, but we upped the ante a little bit and started putting into
the hole from 25 or 30 feet instead of just putting to a mark, that way you get more focused on
making the putt instead of just getting it close."
Henrik Stenson finished solo second and Bubba Watson finished third eight strokes back.
Lefty Brian Harman had the rare feat of two hole-n-ones during his final round 68 on Sunday.
He aced the 183 yard - third hole with a 7 iron and the 218 yard fourteenth with a 4 hybrid.
Scores: http://www.pgatour.com/tournaments/the-barclays/leaderboard.html
| | | | |
| --- | --- | --- | --- |
| Davis Love lll Captures Wyndham | | | |
Davis Love lll celebrates his first win in 7 years at the Wyndahm Championship
Greensboro, North Carolina - In the final regular season event before the
Fedex Cup Playoffs, Davis Love lll shocked the golf world and shot a final
round 64 to win the Wyndham Championship by one stroke over 54 hole
leader Jason Gore.
Sedgefield the 1926 Donald Ross' gem, has long been a favorite of Davis
Love lll . . . his highlights were two eagles, one at the fifth and another at
the fifteenth that gave him the outright lead at -17. Love posted 17 under
par, and waited as challenger after challenger failed to match him. When
Gore's birdie attempt at the last slid by, Davis Love lll became the third
oldest winner in PGA Tour history at 51 years 4 months old.
Tiger Woods who came to Greensboro at the urge of Davis Love lll,
failed in his attempt to extend his season - needing a win or solo second
to extend his season. Woods finished four shots back at -13.
The win for the Ryder Cup Captain (and Presidents Cup Assistant) was
his 21st PGA Tour victory, and opens the doors for a return to his favorite
event - the Masters.
Scores:
http://www.pgatour.com/tournaments/wyndham-championship/leaderboard.html
| | | | |
| --- | --- | --- | --- |
| Jason Gets His Day - Wins PGA Championship | | | |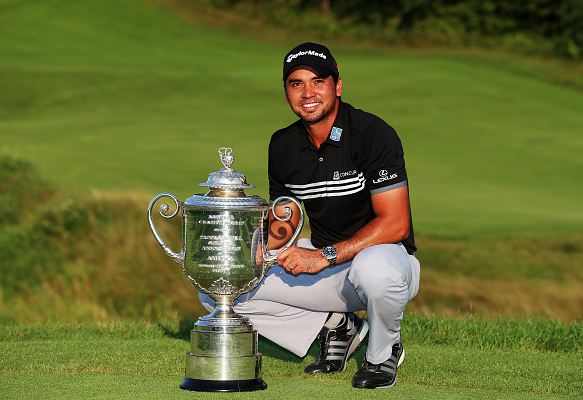 Jason Day celebrates winning the PGA Championship at Whistling Straits
Kohler, Wisconsin - After so many close calls, Jason Day has broken thru for his first
major championship - winning the 97th PGA Championship at Whistling Straits. Jason
Day set the all time major championship scoring record - (posting 20 under par) with
rounds of 68-67-66-67 on one of Pete Dye's toughest layouts. Although there were plenty
of highlights throughout the final round, Sunday lacked the drama of round three and the
past two majors - mainly because the 27 year old Aussie (who now hails from Columbus,
Ohio) played nearly flawless golf.
On a day when Jordan Spieth was lurking two shots back and attempting to win his third
major of 2015, it was JDay who played like the headliner on Sunday. Day dominated the
rugged terrain off lake Michigan with power and accurate ball striking, his 382 yard drive
down the middle on the eleventh left only a wedge into the par 5, and perhaps sent notice
to Spieth that this was not his major to win. Day had his hands on the steering wheel, it
was his to win or lose.
Spieth marveled at Day's performance "This was the easiest defeat I've ever had", Spieth
said. "I was never in control (of the championship) at any point during the round. We've
played in many major championship rounds together, it was the best I've ever seen him
play, it was a stripe show."
Although Spieth came up short on Sunday, his solo second place vaulted him to the
top of the Official World Golf Rankings. The 22 year old Texan admitted afterward "It's
been a lifelong goal of mine, and being No.1 is something that no one can ever take away
from me."
Day referring to Spieth "To be honest the kid just doesn't go away, he has no stance over
in the bunker (on 16) and hits it to a foot . . . it baffles me the stuff that he can prove out
there and obviously with the level of play that he's been playing at, it's no wonder that he's
No.1 in the world right now. To be able to hold him off - knowing that he's going to be the
best player in the world now, it felt great".
Scores: http://www.pga.com/pgachampionship/scoring/leaderboard
| | | | |
| --- | --- | --- | --- |
| Shane Lowry Takes WGC Bridgestone | | | |
Irishman Shane Lowry celebrates at Firestone Country Club
Akron, Ohio - World No.1 Rory McIlroy wasn't ready to defend his title at the WGC
Bridgestone at Firestone Country Club, and continues his rehab in preparation for
the PGA Championship, but fellow Irishman and good buddy Shane Lowry
played a masterful bogey free final round 66 to claim the title again for the Irish.
The 28 year old Lowry capped off a flawless round with an exciting birdie on the last.
After a wayward tee shot into the trees left, it appeared a bogey and a playoff
might be a possibility. Opting to take the daring route instead of punching out and
hoping to make par to win, Lowry opted to go over the trees. The ball actually went
through the last tree and came to rest 8 feet from the hole . . . when Lowry drained
the birdie he fist pumped with pure joy.
Afterward he recalled the heroics: "I was just going in there praying that I could get
it down there on the green ... it actually had a pretty horrific lie. It was sitting down
in a hole, it was almost like someone had stood on it, but it was where the crowd
was walking. The rest is history," he proudly proclaimed.
The win was Lowry's first PGA Tour victory (the 3 year exemption now means that
he can play either tour whenever he chooses (Lowry is already exempt in Europe).
Bubba Watson also posted 66 Sunday and finished solo second at -9.
Scores:
http://www.worldgolfchampionships.com/bridgestone-invitational/leaderboard.html
« StartPrev123

4

5678910NextEnd »
Page 4 of 56