LinksNation.com
| | | | |
| --- | --- | --- | --- |
| USA Holds On to Win Presidents Cup | | | |
Team USA celebrates after winning the 2015 Presidents Cup
Incheon City, Korea - The eleventh playing of the Presidents Cup might go down as the one
that changed the event from an unexciting international team match play, to one that rivals
the Ryder Cup. In perhaps the most thrilling edition of the matches, it all came down to the
final match and final hole at Jack Nicklaus Golf Club Korea - Captain Jay Haas' son Bill versus
native Korean son Sang Moon Bae. Only the second Presidents Cup to come down to the final
match (2003 Fancourt).
With the score 14 1/2 points each and Haas leading 1up on the 18th tee (and assured of atleast
a tie of the matches), both players faced approach shots of over 230 yards to the flag that was
positioned perfectly in the front portion of the elevated green that features a steep downslope
that repelled any shot of less than stellar quality. Haas striped his approach right at the pin, but
it ran through the green into the greenside bunker. Bae miss hit his approach, leaving a tough
third from the steep slope short of the green. Bae needing to get up and down for any chance to
win the hole and salvage a tie, chunked his chip and saw it all slip away as Haas exploded out of
the sand to 6 ft. Match conceded, Haas wins 2up and Team USA eeked out a 9th inning dramatic
15 1/2 to 14 1/2 victory.
Players Summary - On the International side, Branden Grace was a perfect 5-0, while fellow
S.African Oosthuizen eagled the last in his singles match with Patrick Reed to finish 4-0-1.
Adam Scott finally found his mojo on the greens Sunday and dusted off a struggling Rickie
Fowler 6&5. On the U.S side, Mickelson proved worthy of the captains selection going 3-0-1
to lead the Stars and Stripes. Zach Johnson was equally impressive dusting off Jason Day
and also finishing at 3-0-1. World No.1 Jordan Spieth was upset by Aussie Marc Leishman
on the final hole when Leishman holed his 5 foot clincher.
The twelfth edition of the matches will be held at Liberty National Golf Club in New Jersey.
Match results: http://www.presidentscup.com/
| | | | |
| --- | --- | --- | --- |
| Spieth Takes All at East Lake | | | |
Jordan Spieth poses with his new vintage Coca Cola Machine after winning at East Lake
Atlanta, Georgia - The season ended as it began, with Jordan Spieth running the table
and showing his peers that 2015 belongs to him. Entering the Tour Championship by Coca
Cola at East Lake, there was talk of whether it was Spieth or Jason Day who would win the
Player of the Year Award. After the final putt dropped on Sunday, the debate was over.
The 22 year old Texan shot a final round 69 to finish at 9 under par and a four stroke victory
over Henrik Stenson, Danny Lee and Justin Rose. Birdies in the middle of the round at holes
eight, nine and eleven were key - Spieth only needed pars the rest of the way to secure
the Fedex Cup title. With well over 400 feet of putts made at East Lake, Spieth returned to
the type of golf that brought him dominance earlier in the season - eliminate the big numbers
with proper course management and consistent ball striking and score with superior wedge
play, and shortgame. He credited arriving early on Monday to get used to the Bermuda greens
(after many weeks of playing northern courses on Bent grass) and re-focusing on winning the
event in front of him, and not being hung up on the world rankings. It showed, although he
wasn't comfortable all week with his ball striking, he led the field in strokes gained putting and
scrambling.
Along with the $10 million dollar bonus for winning the Fedex Cup, Spieth earned $1.485 million
for the win at East Lake. Spieth also captured the Vardon Trophy for low scoring average (at
68.911 strokes per round) and regained No.1 in the Official World Golf Ranking.
After two major victories and five wins for the year, Spieth was happy to finish it off in
grand style:
"It's validation to the year. It's validation to these playoffs, and how can you go through
the lows of a season so quickly after you're so high," Spieth said. "People can give up on
you easily, and to not care about that, to worry about our own stuff, and to come into the
brightest stages and perform is going to give me a lot of confidence going forward because
there's going to be ups and there's going to be downs, I know it . . . but to be able to
bounce back this quickly from the low in my season is really cool."
Scores: http://www.pgatour.com/leaderboard.html
| | | | |
| --- | --- | --- | --- |
| Jason Gets His Day - Wins PGA Championship | | | |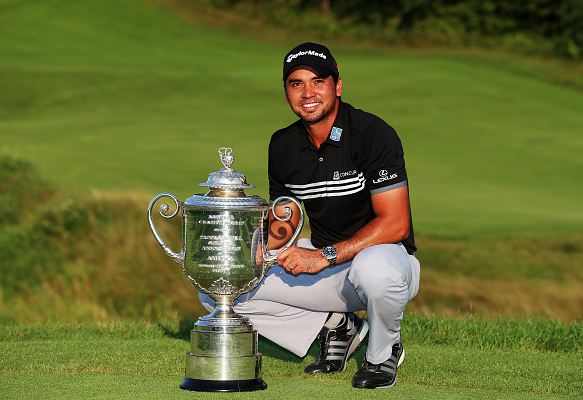 Jason Day celebrates winning the PGA Championship at Whistling Straits
Kohler, Wisconsin - After so many close calls, Jason Day has broken thru for his first
major championship - winning the 97th PGA Championship at Whistling Straits. Jason
Day set the all time major championship scoring record - (posting 20 under par) with
rounds of 68-67-66-67 on one of Pete Dye's toughest layouts. Although there were plenty
of highlights throughout the final round, Sunday lacked the drama of round three and the
past two majors - mainly because the 27 year old Aussie (who now hails from Columbus,
Ohio) played nearly flawless golf.
On a day when Jordan Spieth was lurking two shots back and attempting to win his third
major of 2015, it was JDay who played like the headliner on Sunday. Day dominated the
rugged terrain off lake Michigan with power and accurate ball striking, his 382 yard drive
down the middle on the eleventh left only a wedge into the par 5, and perhaps sent notice
to Spieth that this was not his major to win. Day had his hands on the steering wheel, it
was his to win or lose.
Spieth marveled at Day's performance "This was the easiest defeat I've ever had", Spieth
said. "I was never in control (of the championship) at any point during the round. We've
played in many major championship rounds together, it was the best I've ever seen him
play, it was a stripe show."
Although Spieth came up short on Sunday, his solo second place vaulted him to the
top of the Official World Golf Rankings. The 22 year old Texan admitted afterward "It's
been a lifelong goal of mine, and being No.1 is something that no one can ever take away
from me."
Day referring to Spieth "To be honest the kid just doesn't go away, he has no stance over
in the bunker (on 16) and hits it to a foot . . . it baffles me the stuff that he can prove out
there and obviously with the level of play that he's been playing at, it's no wonder that he's
No.1 in the world right now. To be able to hold him off - knowing that he's going to be the
best player in the world now, it felt great".
Scores: http://www.pga.com/pgachampionship/scoring/leaderboard
| | | | |
| --- | --- | --- | --- |
| Jordan Spieth Rules the 79th Masters | | | |
Bubba Watson puts the Green Jacket on new Masters Champion Jordan Spieth
Augusta, Georgia - When you're hot, you're hot . . . and Jordan Spieth is a 21 year
old inferno that's on top of the golfing world after going wire to wire at the 79th
Masters.
Spieth fired rounds of 64-66-70-70 to tie the all time record at Augusta National of
18 under par. Justin Rose and Phil Mickelson posed the only serious challenge on
Sunday shooting 70 and 69 respectively, finishing tied for second at -14. Spieth
never really seemed to be seriously threatened at any point during the final round.
Six Birdies (at the first, third, eighth, tenth, thirteenth and fifteenth holes) offset
bogeys at the fifth, seventh, twelfth and eighteenth.
It's been quite a tear for the Texan, who won the Australian Open and Hero World
Challenge last winter, and now two wins and two runner up finishes in his last four
events has put World No.1 Rory McIlroy on notice.
Spieth's win was the first wire to wire performance at Augusta National since Ray
Floyd in 1976. Although the final round lacked the drama that most hoped for, the
young American breathed new life into golf fans everywhere . . . especially those still
clinging to the fading days of the Tiger/Phil era.
"It was very nerve wracking today," Spieth said. "I thought today might be a little easier
than yesterday, having played around with the lead, but it wasn't. I didn't sleep well last
night. I just got out here, and got a little rhythm, saw a putt going the first hole . . . and
we were off with two major champions right behind, I couldn't let up."
It's the most incredible week of my life," Spieth said. "This is as great as it gets in our sport.
This is a dream come true for me. I didn't break 70 last year, even having a chance to win,
where I got edged out by Bubba here . . . but to shoot some low rounds and to see some
putts go in out here and to hear the roars, it was remarkable."
Masters Records that were set by Spieth this week:
- Most birdies (28)
- Lowest 36 hole score (-14)
- Lowest 54 hole score (-16)
- Tied for Lowest Tournament Score (-18)
Leaderboard: http://www.masters.com/en_US/index.html

Warning: Illegal string offset 'active' in /home/content/84/5782284/html/site/templates/siteground-j15-68/html/pagination.php on line 129

Warning: Illegal string offset 'active' in /home/content/84/5782284/html/site/templates/siteground-j15-68/html/pagination.php on line 135

Warning: Illegal string offset 'active' in /home/content/84/5782284/html/site/templates/siteground-j15-68/html/pagination.php on line 129

Warning: Illegal string offset 'active' in /home/content/84/5782284/html/site/templates/siteground-j15-68/html/pagination.php on line 135

Warning: Illegal string offset 'active' in /home/content/84/5782284/html/site/templates/siteground-j15-68/html/pagination.php on line 129

Warning: Illegal string offset 'active' in /home/content/84/5782284/html/site/templates/siteground-j15-68/html/pagination.php on line 135

Warning: Illegal string offset 'active' in /home/content/84/5782284/html/site/templates/siteground-j15-68/html/pagination.php on line 129

Warning: Illegal string offset 'active' in /home/content/84/5782284/html/site/templates/siteground-j15-68/html/pagination.php on line 135

Warning: Illegal string offset 'active' in /home/content/84/5782284/html/site/templates/siteground-j15-68/html/pagination.php on line 129

Warning: Illegal string offset 'active' in /home/content/84/5782284/html/site/templates/siteground-j15-68/html/pagination.php on line 135

Warning: Illegal string offset 'active' in /home/content/84/5782284/html/site/templates/siteground-j15-68/html/pagination.php on line 129

Warning: Illegal string offset 'active' in /home/content/84/5782284/html/site/templates/siteground-j15-68/html/pagination.php on line 135

Warning: Illegal string offset 'active' in /home/content/84/5782284/html/site/templates/siteground-j15-68/html/pagination.php on line 129

Warning: Illegal string offset 'active' in /home/content/84/5782284/html/site/templates/siteground-j15-68/html/pagination.php on line 135

Warning: Illegal string offset 'active' in /home/content/84/5782284/html/site/templates/siteground-j15-68/html/pagination.php on line 129

Warning: Illegal string offset 'active' in /home/content/84/5782284/html/site/templates/siteground-j15-68/html/pagination.php on line 135
« StartPrev4142

43

4445464748NextEnd »


Page 43 of 48