LinksNation.com
| | | | |
| --- | --- | --- | --- |
| Jason Day Wins RBC Canadian Open | | | |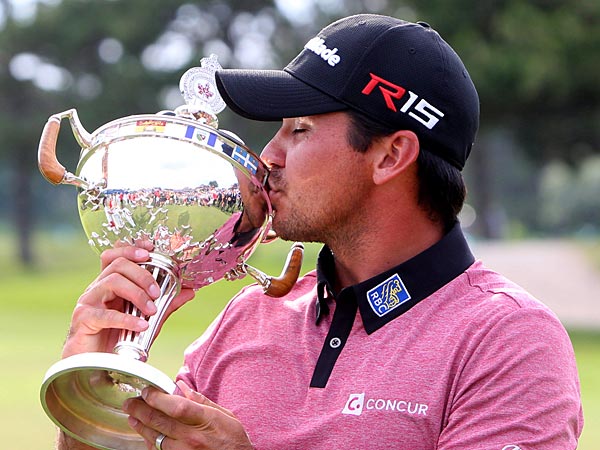 Jason Day celebrates his win at the RBC Canadian Open at Glen Abbey
Ontario, Canada - After top ten finishes at Chambers Bay, St.Andrews and weeks of suffering
with symptoms of Vertigo, Jason Day has broken through for his fourth career PGA Tour
victory at the RBC Canadian Open. "I got the ball to the hole this time, said Day - referring
to his birdie on the 72nd hole Sunday at Glen Abbey (as opposed to his putt the week before
at The Open Championship at St.Andrews that came up short - leaving him one stroke out
of a playoff). "To be able to put yourself in contention so many times, especially in major
events and just fall short, even going back to last week leaving the putt short and not being
able to get into the playoff really kind of was disappointing.

"So when I actually had the same putt, it was a very similar putt on the 72nd hole today.
Same things were going through my mind. Make sure you get it to the hole. Fortunately
enough for me, it was quick enough to where I just needed to get it on the line. If I got it
on the line, it was perfect. I just knew as soon as I hit the putt about six feet out, I knew it
was going to come back and go in the hole. "
Day joins Bubba Watson, Jordan Spieth, McIlroy and Jimmy Walker as the only multiple
winners of the 2015 season.
54 hole leader David Hearn, who was attempting to be the first Canadian winner since 1954,
entered the final round with a two shot lead. After an even par 72 Sunday, Hearn finished
at -15, two shots back of Jason Day (68) who finished with a total of 271 (17 under par).
Bubba Watson who missed the cut at St.Andrews, shot 67 on Sunday and finished solo
2nd.
Scores: http://www.pgatour.com/leaderboard.html
| | | | |
| --- | --- | --- | --- |
| Zach Johnson Wins 144th Open at St.Andrews | | | |
Zach Johnson celebrates with the Claret Jug after winning the 144th Open Championship
Fife, Scotland - In another epic major championship, we had a bit of everything at this years
Open at St.Andrews. The weather caused a Monday finish, and the Old Course as it usually
does - delivered an exciting and drama filled finish and worthy champion.
The board was loaded early on with the likes of Garcia, Day, Scott, Leishman, Oosthuizen,
Johnson, Spieth and Irish Amateur Paul Dunne. Dunne fell off early, but Garcia hung around
just close enough to still be in it, but never posed a serious threat. Adam Scott was on fire
early on, holding a share of the lead when he reached -15 on the tenth, but crashed coming
in (going 5 over par for his last 5 holes). Jason Day once again had a nice showing, but came
up just short of the prize. Spieth seeking to win his third major in a row, came up one putt
short of reaching the playoff . . . then hung around and watched the conclusion behind the
18th green.
Zach Johnson birdied the 18th in grand style making a 28 foot putt to shoot 66 and post
-15 in the clubhouse. Over an hour later, Leishmann & Oosthuizen also posted a 273 total.
In the four hole aggregate playoff, Oosthuizen birdied the first and so did Johnson. Leishmann
made bogey and was never a factor. Johnson then birdied the second, taking a one shot lead
over the South African (who won the last Open at St.Andrews in 2010). After bogeys at the
Road Hole, it came down to the home hole at the home of golf.
Johnson missed his birdie attempt, leaving one last chance for Oosthuizen. His putt just slid
by, and at that moment Zach Johnson realized he was the 2015 "Champion Golfer of the Year"
at the 144th edition at St.Andrews. Kudos to Jordan Spieth, who hung around to watch the
conclusion of the playoff and congratulate Zach Johnson.
Johnson was emotional afterward, "Dreams have been realized, goals accomplished. I'm
honored to be your Open Champion and Champion Golfer of the Year."
Scores: http://www.theopen.com/Leaderboard#!/traditional
| | | | |
| --- | --- | --- | --- |
| Spieth Wins Deere, Chun Gets Women's Open | | | |
Jordan Spieth won the John Deere Classic for the second time Sunday
Silvis, Illinois - The roll continues for Jordan Spieth. After a blistering third round
61 vaulted him into the lead on Saturday, he got off to a slow start on Sunday
(two bogeys on his first three holes). The world No.2 player righted the ship just
in time to shoot 68 and reach a playoff at the John Deere Classic with veteran
journeyman Tom Gillis who fired a final round 64 at TPC Deere Run.
After both made par on the 1st playoff hole, Gillis blinked first when he missed his
tee shot wide right. Attempting to hit a low punch shot through the trees, his
approach rolled through the fairway and into the water, with Spieth safely on
the green, it was Game Over. With the win, Spieth now has four on the season
and heads to the Open Championship at St.Andrews with supreme momentum.
With World No.1 and Defending Champion Rory McIlroy sidelined with an ankle injury,
Spieth, who is going for the 3rd leg of the Grand Slam is the clear favorite. His
thoughts on the home of golf: "I love it. I absolutely love it," he said. "I love the
town. I love the R&A clubhouse. I love the what do you call it - Himalayas putting
green. The entire experience of being there was really cool. The golf course,
specifically, I think it's just mind boggling that it can stand the test of time and hold
a major championship centuries after it was built."
Many questioned why Spieth was in Silvis instead of Scotland the week before the
Open Championship, the 21 year old once again showed his character and maturity
well beyond his age with his perspective on the subject: "This tournament means a
lot to me," he said. "I mean this jump started my career I'd probably be six months
to a year further back in my career had that shot not gone in and had I not survived
the playoff. I wouldn't have been in the Fedex Cup playoffs, the Presidents Cup, my
world ranking would have been down given that I played the playoffs extremely well.
So I would have been set back a little bit starting the next year. I could have played
a different schedule. Who knows what could have happened."
Scores: http://www.pgatour.com/tournaments/john-deere-classic/leaderboard.html
In Gee Chun celebrates her victory at the U.S Women's Open
Lancaster, Pennsylvania - 20 year old South Korean In Gee Chun birdied four of the
final seven holes to shoot a final round 66, and win the U.S Women's Open in her
debut. Chun outlasted third round leader Amy Yang, who struggled mid-round but
battled back to eagle the 16th and birdie the 17th to pull even with Chun. Needing
par on the 72nd hole to force a playoff, Yang made bogey to fall one stroke short
after a final round 71.
For Yang, who held a three shot lead heading into Sunday, it was the third time
playing in the final group in the past four years . . . coming up empty on each
occasion.
Inbee Park and Stacy Lewis tied for third at -5. Defending Champion Michelle
Wie finished tied for 11th at -2.
Scores:
http://www.usga.org/championships/2015/u-s--women-s-open/scoring.html
Ricky Fowler heads to St.Andrews with momentum after winning at Gullane
Scotland - After making bogey on the 14th, Rickie Fowler was two shots back. He
went on and birdied the 15th, 16th and 18th to reach 12 under par and deny Matt
Kuchar a chance at victory at the Aberdeen Asset management Scottish Open. It
may have been something that a fellow American told him before the week began:
"Phil [Mickelson] mentioned to me, win this and there's a good chance you win next
week . . . so I had to take care of business," said Fowler. "I don't know what's so
special about links golf but it's my favourite. The golf course can play so different
day after day and it presents a new challenge. It was a good test this week at
Gullane."
"I will have a bit of time tonight to let it sink in and get right back at it next week.

"This is a big win. I had a couple of missed cuts after winning the Players, which
was disappointing, so it feels good to get back on form. I had to dig deep. I was a
little bummed to drop a shot on 14 but knew I had some birdie holes coming in. I had
played the last four holes well this week and luckily 14 didn't cost me."

Fowler knows there is still work to be done, "There are a few things we can tighten
up for next week but I am looking forward to getting back to St Andrews, the Home
of Golf, and getting into contention."
Matt Kuchar and Raphael Jacquelin finished tied for second at -11.
Scores:
http://www.europeantour.com/europeantour/season=2015/tournamentid=2015052/leaderboard/index.html?showLeaderboard=Y#jrpoUQKfA36Rylgv.97
| | | | |
| --- | --- | --- | --- |
| Danny Lee Wins Playoff at The Greenbrier | | | |
Danny Lee celebrates his 1st PGA Tour title after winning a four man playoff at the
Greenbrier Sunday.
White Sulpher Springs, West Virginia - Former U.S Amateur Champion Danny Lee
fired a final round 67 on Sunday to reach -13 and gain entry into a playoff with Kevin
Kisner (64), Robert Streb (65), and David Hearn (67).
On the first playoff hole, (the par 3 eighteenth) Lee and Hearn both drained mid range
birdies eliminating Streb and Kisner . On the par 5 seventeenth, Hearn and Lee both
missed their tee shots left, but it was Hearn who struggled to recover and made bogey.
Danny Lee two putted for his par to the Greenbrier Classic and his very first PGA Tour
win.
The New Zealander who had already played in 27 events this season, is on a mission
to make it onto his first Team (at the 2015 Presidents Cup). "The reason I played in so
many events was I was really trying to make it into the Presidents Cup this year, Lee
said. "It's back in Korea. That's where I was born. I kind of feel like I was playing good
but not good enough to win a golf tournament, but this week for some reason I just felt
right."
After this week, something tells me that International Captain Nick Price was paying
attention.
Scores: http://www.pgatour.com/tournaments/the-greenbrier-classic/leaderboard.html
« StartPrev123456

7

8910NextEnd »
Page 7 of 58