LinksNation.com
| | | | |
| --- | --- | --- | --- |
| Jason Gets His Day - Wins PGA Championship | | | |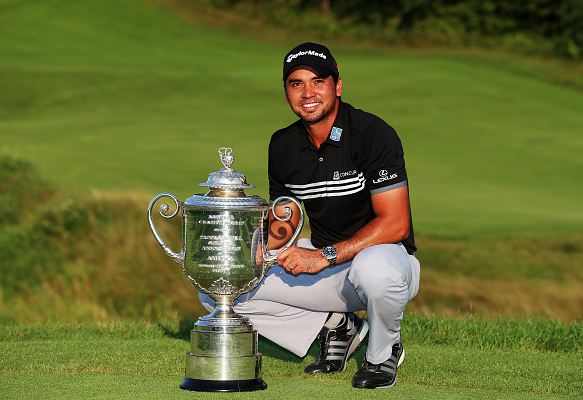 Jason Day celebrates winning the PGA Championship at Whistling Straits
Kohler, Wisconsin - After so many close calls, Jason Day has broken thru for his first
major championship - winning the 97th PGA Championship at Whistling Straits. Jason
Day set the all time major championship scoring record - (posting 20 under par) with
rounds of 68-67-66-67 on one of Pete Dye's toughest layouts. Although there were plenty
of highlights throughout the final round, Sunday lacked the drama of round three and the
past two majors - mainly because the 27 year old Aussie (who now hails from Columbus,
Ohio) played nearly flawless golf.
On a day when Jordan Spieth was lurking two shots back and attempting to win his third
major of 2015, it was JDay who played like the headliner on Sunday. Day dominated the
rugged terrain off lake Michigan with power and accurate ball striking, his 382 yard drive
down the middle on the eleventh left only a wedge into the par 5, and perhaps sent notice
to Spieth that this was not his major to win. Day had his hands on the steering wheel, it
was his to win or lose.
Spieth marveled at Day's performance "This was the easiest defeat I've ever had", Spieth
said. "I was never in control (of the championship) at any point during the round. We've
played in many major championship rounds together, it was the best I've ever seen him
play, it was a stripe show."
Although Spieth came up short on Sunday, his solo second place vaulted him to the
top of the Official World Golf Rankings. The 22 year old Texan admitted afterward "It's
been a lifelong goal of mine, and being No.1 is something that no one can ever take away
from me."
Day referring to Spieth "To be honest the kid just doesn't go away, he has no stance over
in the bunker (on 16) and hits it to a foot . . . it baffles me the stuff that he can prove out
there and obviously with the level of play that he's been playing at, it's no wonder that he's
No.1 in the world right now. To be able to hold him off - knowing that he's going to be the
best player in the world now, it felt great".
Scores: http://www.pga.com/pgachampionship/scoring/leaderboard
| | | | |
| --- | --- | --- | --- |
| Shane Lowry Takes WGC Bridgestone | | | |
Irishman Shane Lowry celebrates at Firestone Country Club
Akron, Ohio - World No.1 Rory McIlroy wasn't ready to defend his title at the WGC
Bridgestone at Firestone Country Club, and continues his rehab in preparation for
the PGA Championship, but fellow Irishman and good buddy Shane Lowry
played a masterful bogey free final round 66 to claim the title again for the Irish.
The 28 year old Lowry capped off a flawless round with an exciting birdie on the last.
After a wayward tee shot into the trees left, it appeared a bogey and a playoff
might be a possibility. Opting to take the daring route instead of punching out and
hoping to make par to win, Lowry opted to go over the trees. The ball actually went
through the last tree and came to rest 8 feet from the hole . . . when Lowry drained
the birdie he fist pumped with pure joy.
Afterward he recalled the heroics: "I was just going in there praying that I could get
it down there on the green ... it actually had a pretty horrific lie. It was sitting down
in a hole, it was almost like someone had stood on it, but it was where the crowd
was walking. The rest is history," he proudly proclaimed.
The win was Lowry's first PGA Tour victory (the 3 year exemption now means that
he can play either tour whenever he chooses (Lowry is already exempt in Europe).
Bubba Watson also posted 66 Sunday and finished solo second at -9.
Scores:
http://www.worldgolfchampionships.com/bridgestone-invitational/leaderboard.html
| | | | |
| --- | --- | --- | --- |
| Troy Merritt Wins Quicken Loans National | | | |
Troy Merritt celebrates after his first PGA Tour win at the Quicken Loans National
Gainesville, Virginia - After rounds of 61-67 on the weekend, Troy Merritt is now
a title holder on the PGA Tour. Merritt's 18 under par 266 total was good for a
three stroke margin over Rickie Fowler at the Quicken Loans National at RTJ Golf
Club.
After a solid 3 under par front nine, Merritt had his first stumble on the par
4 twelfth. He pulled away in the end with birdie on the 16th and a 34 foot
walk off birdie on the last.
Merritt credited two mechanical fixes during the week for his success, stating
that he had been playing solid golf, but something was just a little off during
the summer (he missed the cut in his previous five events). The first find was
a slight hand position adjustment at address on Tuesday, the second came
Saturday morning when they discovered his shoulder alignment during putting
was not quite square. Armed with a renewed confidence, Merritt blitzed the field
shooting 14 under par on the weekend alone.
"Just to know that I can play this game and not having the results,"
Merritt said when asked what the most frustrating part about the last
five years was. "When you struggle and can't find it, it's frustrating.
But I've had some peace on and off the course the last two years and
it's really helped me out this year.
"When you've had so much success throughout your life and now you're
just trying to keep your head above water for years and years and years
it's tough. It's a culture shock."
The victory gets Troy Merritt into the WGC Bridgestone next week, the PGA
Championship, Fedex Cup Playoffs, Tournament of Champions, and the Masters.
Scores:
http://www.pgatour.com/tournaments/quicken-loans-national/leaderboard.html
| | | | |
| --- | --- | --- | --- |
| Jason Day Wins RBC Canadian Open | | | |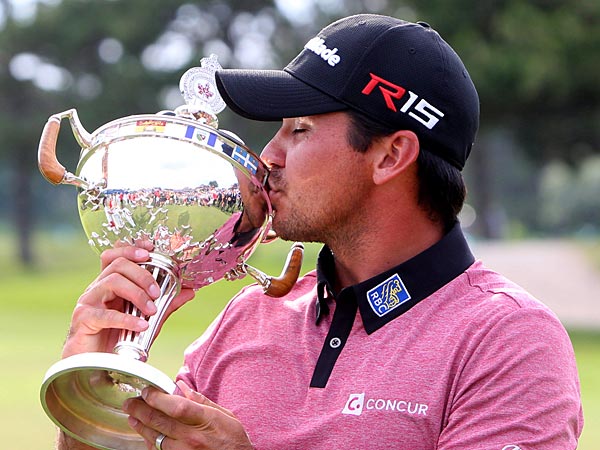 Jason Day celebrates his win at the RBC Canadian Open at Glen Abbey
Ontario, Canada - After top ten finishes at Chambers Bay, St.Andrews and weeks of suffering
with symptoms of Vertigo, Jason Day has broken through for his fourth career PGA Tour
victory at the RBC Canadian Open. "I got the ball to the hole this time, said Day - referring
to his birdie on the 72nd hole Sunday at Glen Abbey (as opposed to his putt the week before
at The Open Championship at St.Andrews that came up short - leaving him one stroke out
of a playoff). "To be able to put yourself in contention so many times, especially in major
events and just fall short, even going back to last week leaving the putt short and not being
able to get into the playoff really kind of was disappointing.

"So when I actually had the same putt, it was a very similar putt on the 72nd hole today.
Same things were going through my mind. Make sure you get it to the hole. Fortunately
enough for me, it was quick enough to where I just needed to get it on the line. If I got it
on the line, it was perfect. I just knew as soon as I hit the putt about six feet out, I knew it
was going to come back and go in the hole. "
Day joins Bubba Watson, Jordan Spieth, McIlroy and Jimmy Walker as the only multiple
winners of the 2015 season.
54 hole leader David Hearn, who was attempting to be the first Canadian winner since 1954,
entered the final round with a two shot lead. After an even par 72 Sunday, Hearn finished
at -15, two shots back of Jason Day (68) who finished with a total of 271 (17 under par).
Bubba Watson who missed the cut at St.Andrews, shot 67 on Sunday and finished solo
2nd.
Scores: http://www.pgatour.com/leaderboard.html
« StartPrev123456789

10

NextEnd »
Page 10 of 62