LinksNation.com
| | | | |
| --- | --- | --- | --- |
| The Match II; Champions for Charity COVID-19 Relief | | | |
Phil, Tom Brady, Peyton Manning and Tiger pose after The Match at Medalist
Hobe Sound, Florida - Mother nature wasn't in a cooperative mood with
a weather system soaking all of South Florida, but the four titans of sport
slogged along in an effort to raise money for COVID-19 relief. The golf was
as sloppy as the weather, but between Tiger striping it all day, Mickelson
chirping in Trevino-esque fashion and the QB's pitching in (Brady actually
did hole out a wedge on the par 5 seventh) it made for some entertaining
live action for a change.
The front 9 was hard to watch, with more penalty strokes and lost balls than
pars, but surprisingly, the inward nine which consisted of modified alternate
shot was a far better watch. Everyone contributed, Manning seemed to own
the par 3 holes - hitting it to 17 inches on the 16th. Even Brady who struggled
throughout, made a 15 foot eagle put on the driveable eleventh hole for an
eagle 2, after Mickelson drove the green. 3 down at the turn, Mickelson and
the new QB for the Tampa Bay Buccaneers began to gel down the stretch and
somehow got the match to the home hole as the gloomy Hobe Sound evening
was turning to darkness. When Tiger Woods lag putted to gimme range, the
match was over. In the end, 20 million dollars was raised for COVID-19 Relief
and a second consecutive weekend of live golf had been witnessed. It was a
Win/Win for all.
For full results: https://www.pgatour.com/leaderboard.html
| | | | |
| --- | --- | --- | --- |
| Seminole Shines in TaylorMade Drive For Relief | | | |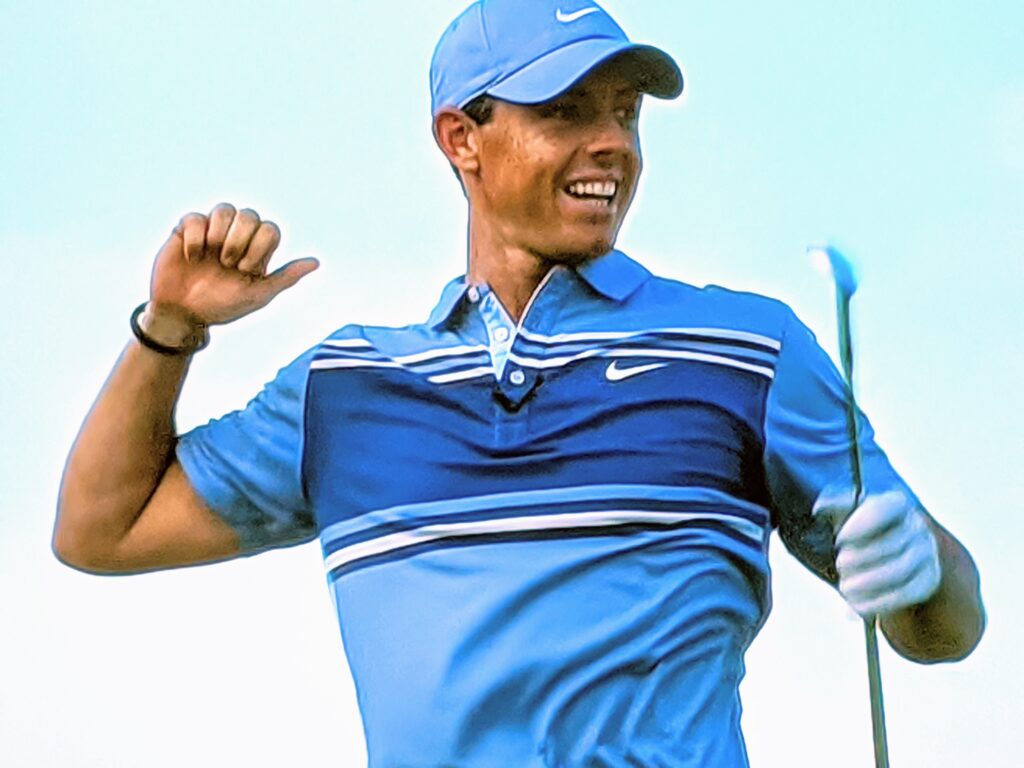 It was, at the very least, a good start. Live televised sports competition
returned on Sunday, and the TaylorMade Driving Relief event didn't look much like the golf played by Rory McIlroy, Dustin Johnson, Rickie Fowler and Matthew Wolff at the last PGA Tour event on March 12.
On Sunday the players all wore shorts, carried their own bags, cleaned their own clubs and were allowed to use range-finders. Caddies weren't allowed, and neither were spectators at Seminole Golf Club, a storied Donald Ross-designed layout in Juno Beach, FL. Only PGA Tour staffers were allowed to touch the flagsticks or rake the bunkers.
NBC staffers were largely absent as well. Telecast host Mike Tirico was at his home in Michigan and conducted long-distance interviews with President Trump, Bill Murray and Jon Rahm. Analysts Paul Azinger and Gary Koch watched the broadcast from PGA Tour headquarters in St. Augustine, FL. Only on-course reporters Steve Sands and Jerry Foltz were at Seminole.
All that was in done in an effort to adhere to social distancing guidelines and other requirements to help COVID-19 relief efforts.
After a nine-week layoff the players' games weren't always sharp. Johnson hadn't been on a course between the March 12 cancellation of The Players Championship and a practice round at Seminole this week.
The four players are all on the TaylorMade staff, and they donated their services. McIlroy and Johnson played in the two-man skins competition for the American Nurses Foundation and Fowler and Wolff represented the Center for Disease Control Foundation. Those organizations were the main beneficiaries as $5.5 million was raised from the Sunday event through corporate sponsorships and outside donations made during the telecast.
There was no wild cheering, due to the absence of fans, and the players couldn't even give high-fives – all part of the social distancing effort. Only a few TV cameramen and PGA Tour officials, many riding in carts, accompanied the players around the course. Still, the event didn't lack drama. The McIlroy-Johnson team earned $1,850,000 and the Fowler-Wolff team $1,150,000.
No skins were earned in the final six holes, so the match went an extra hole – to a closest-to-the-pin contest on a 120-yard hole. McIlroy, the world's No. 1 golfer, won on the last shot of the day. His shot was slightly closer than Wolff, who was the surprise of the day.
Fowler-Wolff, both former Oklahoma State golfers, weren't accorded much of a chance against the game's No. 1 and No.5-ranked players but Wolff, a 21-year old PGA Tour rookie with a quirky swing, earned some surprise bonus points by winning two long-drive competitions.
McIlroy and Johnson are two of the longest hitters in the game, but Wolff did better on Sunday. He was the NCAA individual champion last year and won in only his third start on the PGA Tour.
"There were probably a lot of people asking why I was in it,'' said Wolff, "but I wanted to prove to them that I can play with the best in the world.''
"It was an awesome day,'' said McIlroy, whose father Jerry is a Seminole member. "It was nice to be back on a golf course and get back to some kind of normalcy.''
Another potentially lucrative charity exhibition is on tap for next Sunday, featuring Tiger Woods, Phil Mickelson and legendary quarterbacks Peyton Manning and Tom Brady. They'll play at Medalist Club, another South Florida facility.
That'll set the stage for the PGA Tour's return to tournament play on June 11, at the Charles Schwab Challenge at Colonial in Fort Worth, TX. That event, along with the next four tournaments on the schedule, will be played without spectators.
"The Tour is obviously taking it very seriously,'' said Fowler. "They're taking all the measures needed to make sure when we do Colonial that it'll be the safest environment possible.''
"We miss competing,'' said Johnson. "It's been nice to be at home and enjoy time with the family, but I'm ready to get back out there and play.''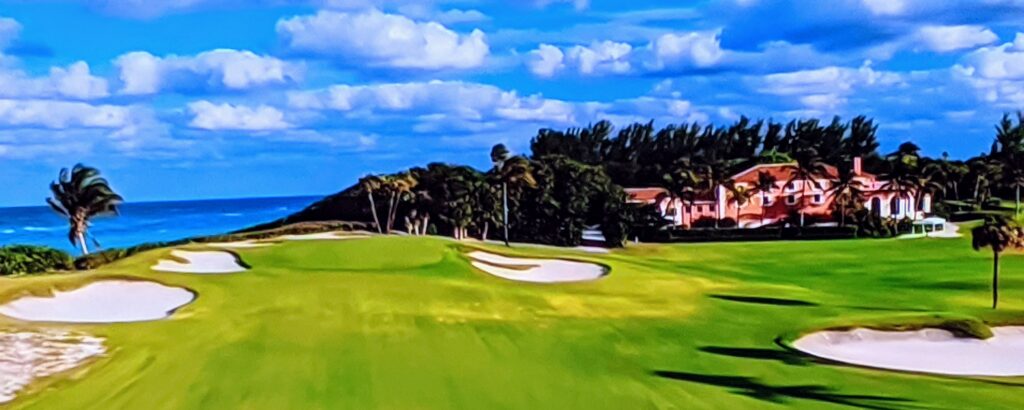 18th at Seminole
| | | | |
| --- | --- | --- | --- |
| Marion Hollins To Be Inducted Into World Golf Hall of Fame | | | |

ST. AUGUSTINE, Fla. (April 17, 2020) – Marion Hollins, one
of the only female golf course developers in history, will be inducted into
the World Golf Hall of Fame as part of its Class of 2021. Joining Tiger
Woods, who was announced last month, Hollins was selected through the
Contributor category for her impact as a visionary golf course architect
and pioneer of the game.


Winner of the 1921 United States Amateur and captain of the first American
Curtis Cup team in 1932, Marion Hollins' influence on the game stretched
beyond the fairways of competitive play. One of history's few female golf
course developers, she took a lead role in developing the Monterey
Peninsula into a golf mecca, which is now home to some of the biggest
tournaments in play.

"When you start reading about Marion Hollins, you realize what a trailblazer
she was," said Annika Sorenstam. "In her era, she didn't have many
resources with the status of women in sports and golf. To be that kind of
trailblazer with that kind of enthusiasm and energy and get into course
development and design is very inspirational. She was an advocate for
women and changed the landscape of the game."

Credited with being the first woman to conceive and build a planned unit
development with a golf course as a central feature, she played a major
role in the founding and formation of two of golf's most iconic courses,
Cypress Point and Pasatiempo. Hollins was a collaborator with Hall of Famer
Alister MacKenzie on multiple projects; he credited her for the design of the
16th at Cypress Point. She also developed a friendship with the legendary
Bobby Jones and influenced the development of Augusta National when she
traveled there on MacKenzie's behalf.


Hollins is the second Inductee in the Class of 2021, joining Tiger Woods,
who was announced last month. The additional members of the 2021 Class
will be announced in the coming days.


"Marion Hollins is most deserving of this honor," said Greg McLaughlin, CEO
of World Golf Foundation. "She was a principal force of the game, the
visionary of some of today's greatest courses, and I am grateful that her
contributions will be celebrated as part of the 2021 Class and thereafter
in the World Golf Hall of Fame."

About World Golf Hall of Fame

The World Golf Hall of Fame celebrates golf and honors the legacies of
those who have made it great. The Hall of Fame opened in Pinehurst,
N.C. in 1974 where a total of 71 members were inducted before moving
to its current location in St. Augustine, Florida in 1998. The World Golf
Hall of Fame currently recognizes 160 Members. The Hall of Fame is a
501(c)(3) nonprofit institution and is allied with 26 national and
international golf organizations, including the European Tour, LPGA,
the Masters Tournament, PGA of America, PGA TOUR, The R&A and
USGA. To learn more about the World Golf Hall of Fame or to lend
support, visit www.worldgolfhalloffame.org
| | | | |
| --- | --- | --- | --- |
| Hatton Wins at the King's House | | | |
Tyrrell Hatton celebrates in his new red cardigan after winning at Bayhill
Orlando, FL - Tyrrell Hatton outlasted an impressive field in stage two
of the windy Florida Swing to capture his first PGA Tour victory.  The
King's house played as tough as it has in recent memory, Arnie would
have appreciated the U.S Open that broke out on his layout this week.
The 28 year old Englishman was one of only four players to break par
for the week, finishing at 4 under par after a final round 74. Four inch
rough, baked out greens and constant 20+ mph wind gusts made the
field look silly at times. So much so, that World No.3 Brooks Koepka
shot the highest score of his career - 81 on Saturday. Looking to gain
momentum after 36 holes, he moved out of contention completely.
Ecstatic after tapping in for his maiden triumph on U.S soil (by one
stroke over 2017 API Champion Marc Leishman), Hatton said, "To hold
on and win here at such an iconic venue, I'm over the moon."
Last week's Honda Classic winner Sungjae Im finished two shots back
after a 73 on Sunday. World No.1 Rory McIlroy was just two shots back
after 54 holes, but struggled to a final round 76, finishing at even par.
Scores: https://www.pgatour.com/leaderboard.html

Warning: Illegal string offset 'active' in /home/content/84/5782284/html/site/templates/siteground-j15-68/html/pagination.php on line 129

Warning: Illegal string offset 'active' in /home/content/84/5782284/html/site/templates/siteground-j15-68/html/pagination.php on line 135

Warning: Illegal string offset 'active' in /home/content/84/5782284/html/site/templates/siteground-j15-68/html/pagination.php on line 129

Warning: Illegal string offset 'active' in /home/content/84/5782284/html/site/templates/siteground-j15-68/html/pagination.php on line 135

Warning: Illegal string offset 'active' in /home/content/84/5782284/html/site/templates/siteground-j15-68/html/pagination.php on line 129

Warning: Illegal string offset 'active' in /home/content/84/5782284/html/site/templates/siteground-j15-68/html/pagination.php on line 135

Warning: Illegal string offset 'active' in /home/content/84/5782284/html/site/templates/siteground-j15-68/html/pagination.php on line 129

Warning: Illegal string offset 'active' in /home/content/84/5782284/html/site/templates/siteground-j15-68/html/pagination.php on line 135

Warning: Illegal string offset 'active' in /home/content/84/5782284/html/site/templates/siteground-j15-68/html/pagination.php on line 129

Warning: Illegal string offset 'active' in /home/content/84/5782284/html/site/templates/siteground-j15-68/html/pagination.php on line 135

Warning: Illegal string offset 'active' in /home/content/84/5782284/html/site/templates/siteground-j15-68/html/pagination.php on line 129

Warning: Illegal string offset 'active' in /home/content/84/5782284/html/site/templates/siteground-j15-68/html/pagination.php on line 135

Warning: Illegal string offset 'active' in /home/content/84/5782284/html/site/templates/siteground-j15-68/html/pagination.php on line 129

Warning: Illegal string offset 'active' in /home/content/84/5782284/html/site/templates/siteground-j15-68/html/pagination.php on line 135

Warning: Illegal string offset 'active' in /home/content/84/5782284/html/site/templates/siteground-j15-68/html/pagination.php on line 129

Warning: Illegal string offset 'active' in /home/content/84/5782284/html/site/templates/siteground-j15-68/html/pagination.php on line 135

Warning: Illegal string offset 'active' in /home/content/84/5782284/html/site/templates/siteground-j15-68/html/pagination.php on line 129

Warning: Illegal string offset 'active' in /home/content/84/5782284/html/site/templates/siteground-j15-68/html/pagination.php on line 135

Warning: Illegal string offset 'active' in /home/content/84/5782284/html/site/templates/siteground-j15-68/html/pagination.php on line 129

Warning: Illegal string offset 'active' in /home/content/84/5782284/html/site/templates/siteground-j15-68/html/pagination.php on line 135
« StartPrev123456789

10

NextEnd »


Page 10 of 53