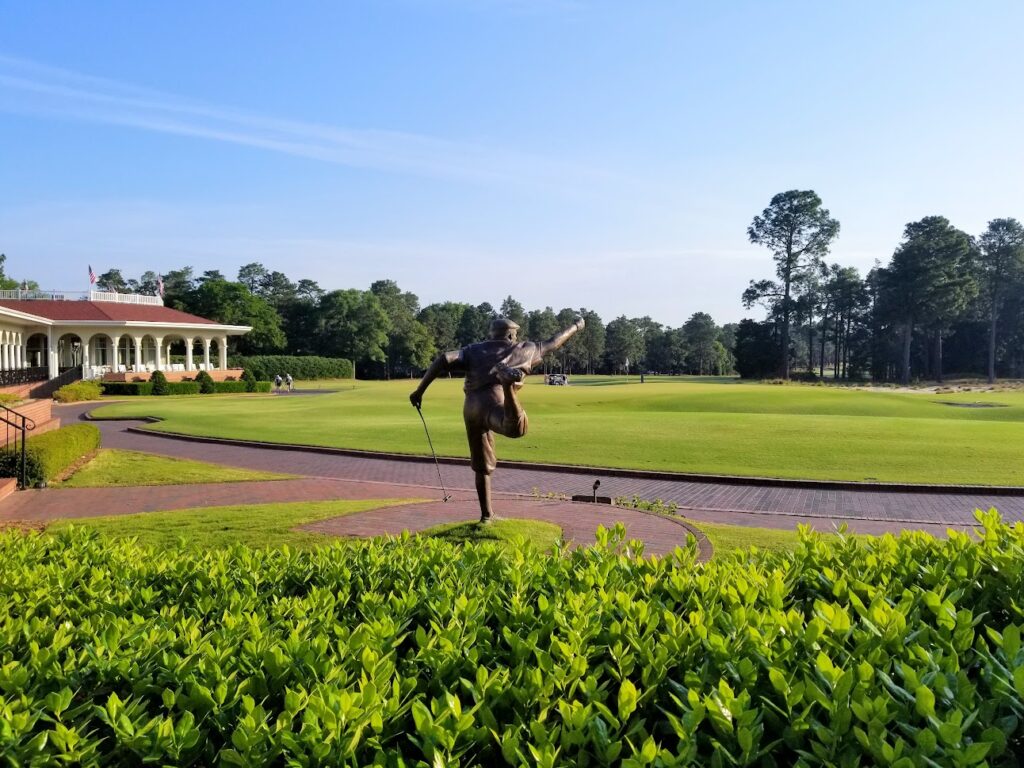 The U.S. Open is steeped in tradition, and the sites that have hosted those history making events are regarded in the highest esteem – places like Merion, Oakmont, Shinnecock Hills, Oak Hill, Baltusrol, Oakland Hills, Winged Foot, and Olympic – but the word "Open" brings with it the inference of inclusion, however, none of the private clubs previously mentioned offer public access. The two locations where the USGA regularly brings America's National Open to public grounds – Pinehurst Resort in North Carolina and Pebble Beach Resort in Monterey, California are open to visitors year round. These resorts carry a premium price point and can be considered aspirational destinations, but they are accessible to any and all who reserve a stay or tee time to play.
The USGA has dabbled recently by bringing the U.S. Open to other public venues like Torrey Pines, Bethpage Black and Chambers Bay (the PGA of America has since claimed Bethpage as its venue for their major and Ryder Cup). While both Torrey and Chambers Bay offer amazing scenic beauty, I implore the USGA to drop the uninteresting slog-fest that Torrey is, and give Chambers Bay another hosting opportunity because of its thrilling and thought provoking design, but I digress . . .
This leaves Pinehurst No.2 and Pebble Beach as the primary public venues in the rota to host America's Open.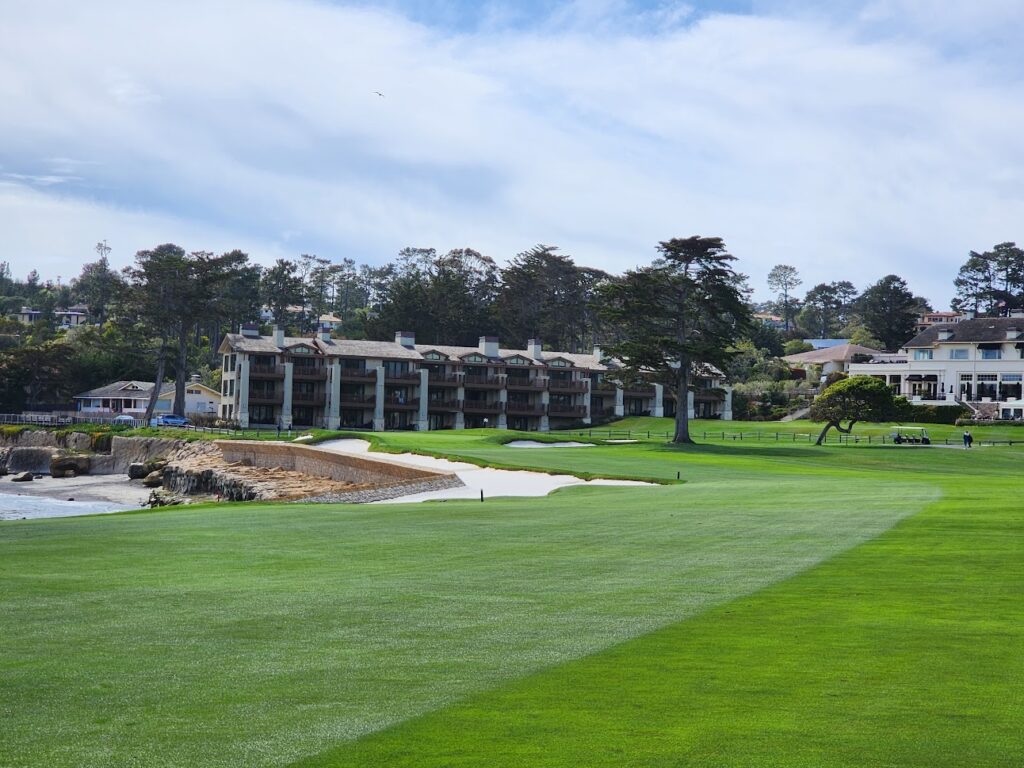 In a span of 19 days (April 13th & May 2nd) we had the good fortune to tee it up at both Pinehurst No.2 & Pebble Beach. If you've played them, then you know they're worthy of America's crown. If you haven't, you should get them on your MUST visit list, but what are the experiences of each like? Are there similarities between the two courses, resorts, playing conditions, etc? Come along as I compare and share a few of my thoughts and experiences of playing these two host sites of the United States Open Championship.
Below is an example of an opportunity to play Pinehurst No.2 via an email blast by the FSGA that I received earlier this spring. If you subscribe or belong to a golf association, you may be familiar with these types of emails from resorts, often providing a deal better than if you reserved a stay n play on your own. The accommodations at both the Carolina Hotel in Pinehurst and The Lodge at Pebble Beach are exceptional, welcoming and offer amazing first-class service – but let's focus primarily on the course experience of each and what it's like to play these two classic gems.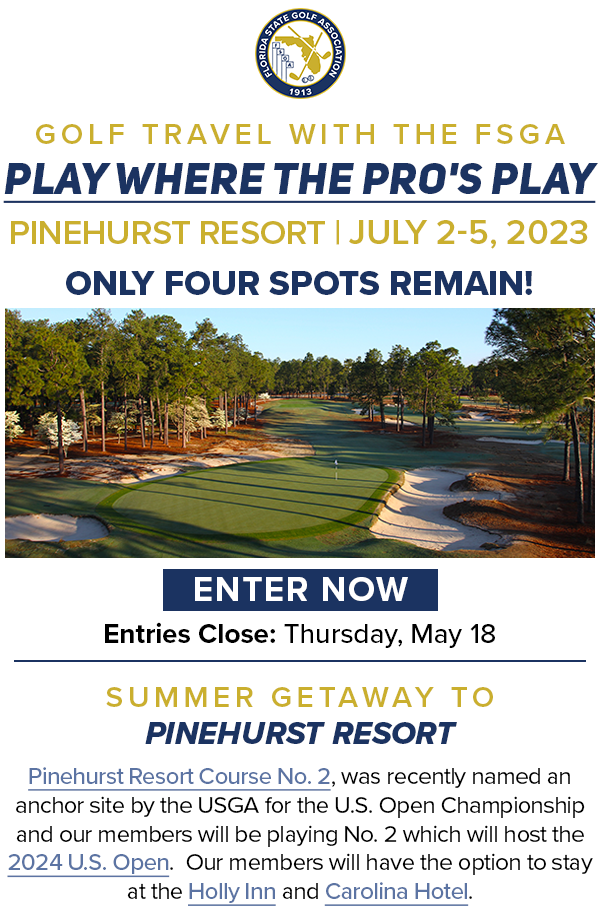 Just a bit of background info – I've been fortunate to have played each course on previous visits and have worked events on the media side at each venue as well as on the agronomy team at the 2019 U.S Open. So I'm familiar with each property and course design.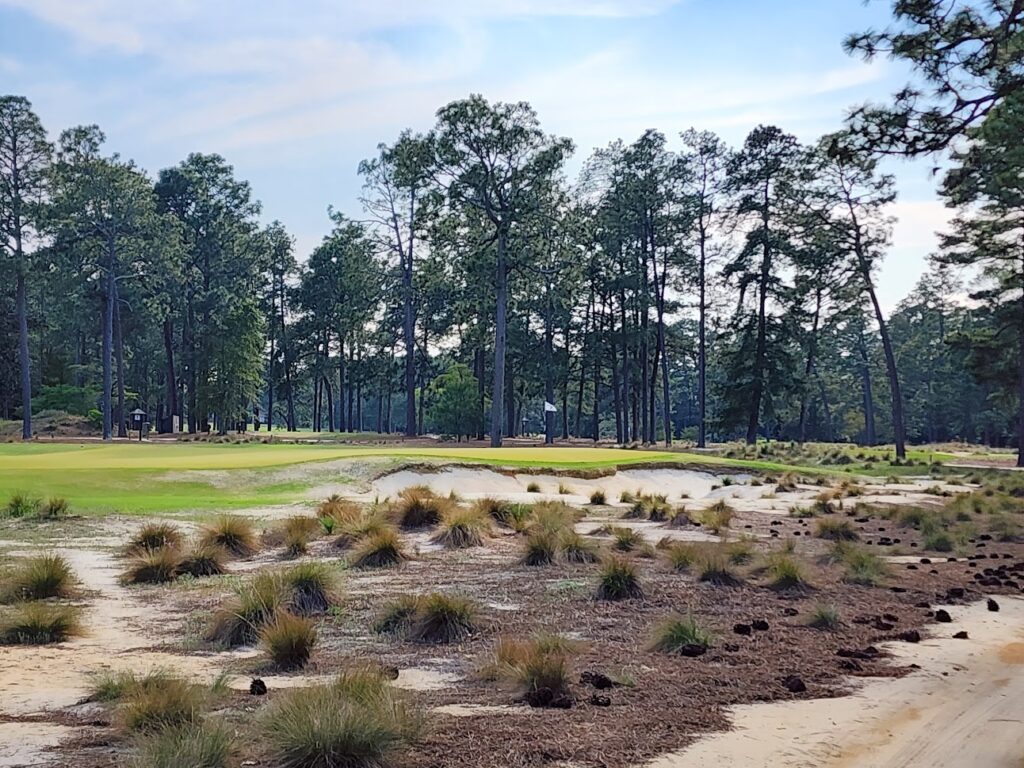 Both of these bucket list courses are worthy of hosting the U.S Open, but each offers a very different flavor in terms of topography, design, turf/playing conditions, scenery, and climate.
What to expect…
Climate (Apparel/Weather Gear) – The Monterey Peninsula has it's own micro-climate that offers a very consistent pattern of chilly marine layer, especially in the mornings, as where Pinehurst is a lot more varied like much of the east coast of the United States. Monterey Peninsula mornings are usually between 47-55 degrees, with high temps rarely breaking 70 degrees. Think slacks, layering apparel (and have rain gear on-hand especially December – March). At the very least, think quarter-zip sweater, cardigan or even hoodie. Inland North Carolina on the other hand, does require checking forecasts daily and has seasonal weather with the occasional freeze in winter and some typical humid summer heat (especially in July and August). For example, on April 13th the weather at Pinehurst was pleasant and comfortable (60ish) in the morning pre-tee time and warmed up to 80 degrees by early afternoon. By the time we had dinner at Quill & Drum in the Village of Pinehurst in the evening, it had already chilled back to about 65 degrees. The two biggest factors at Pebble are the aforementioned marine layer and the wind. The day we played (May 2nd) it was cold – high of 52 with wind gusts of 30+. I had everything figured out, except the knit hat to keep the head warm. Pack accordingly.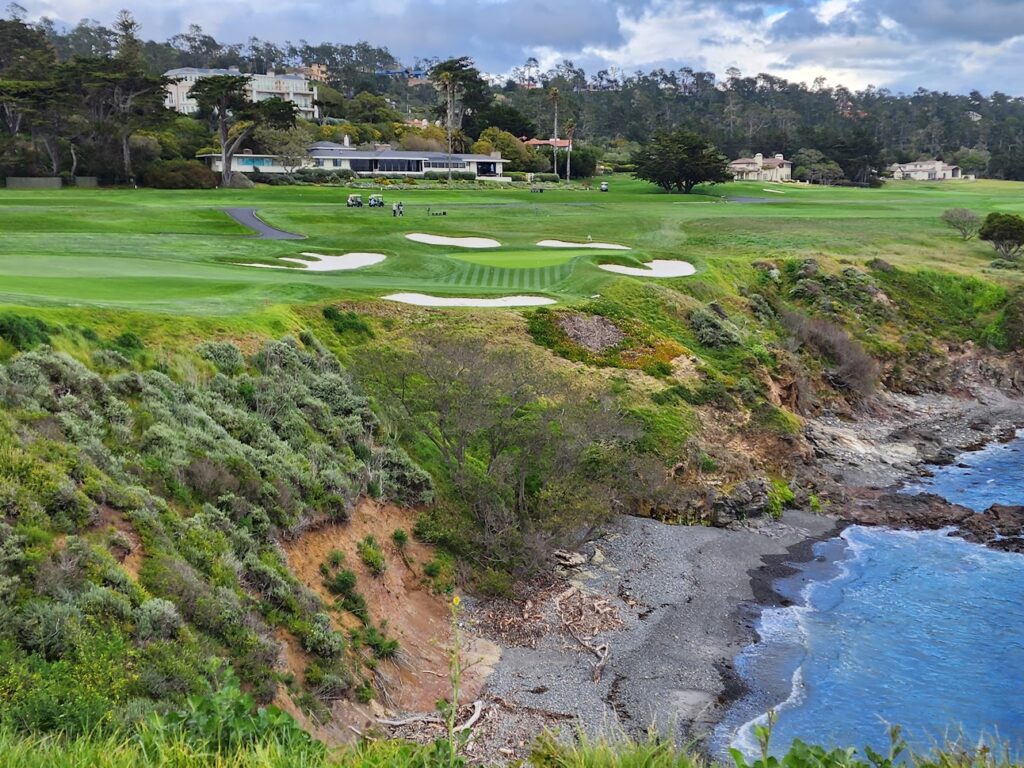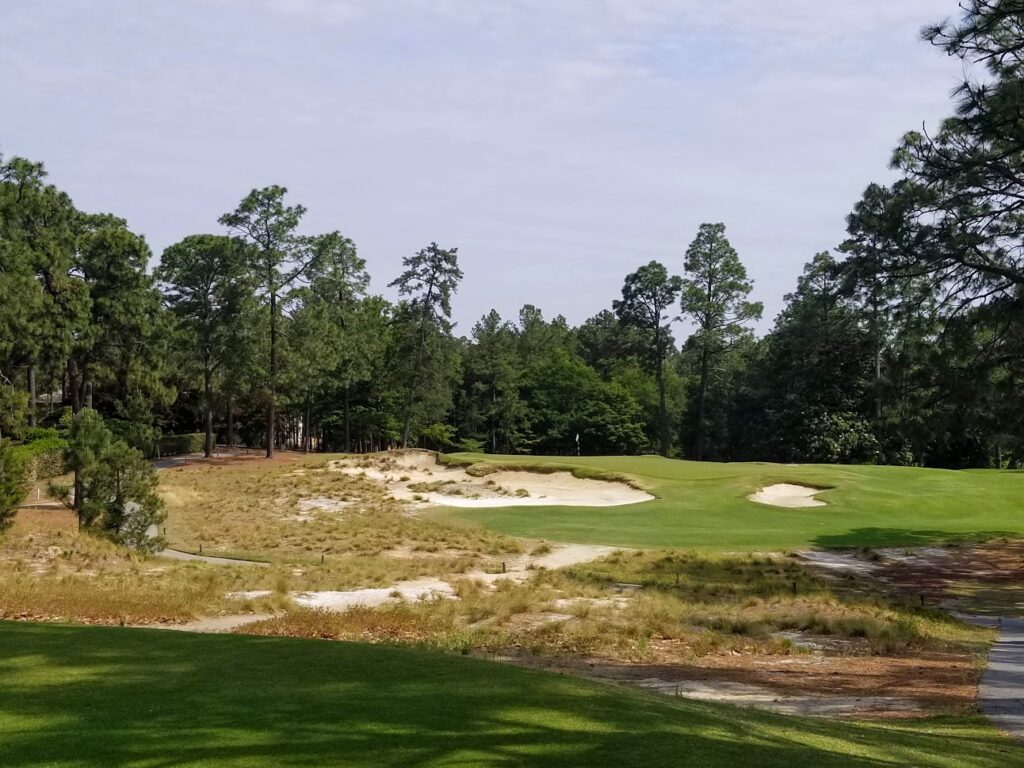 Scenery/Topography/Walking – You wouldn't need to be a golfer to know that Pebble Beach is one of the most dramatic meetings of land and sea in the world. The cliffside holes of 4 thru 10, 17 & 18 along Stillwater Cove at Pebble Beach are the stunning showstoppers of legend, that must be experienced in person. Pinehurst doesn't have the ocean or the dramatic cliff views, but delivers it's beauty in it's own serene subtle way.
The walk at both courses is a sublime journey, albeit different. Taking a cart at either should be a two-stroke penalty for every hole that you ride (in my opinion), but they are available with one big caveat – cart path only on both. Neither round will be quick, so why not enjoy the scenery and the stroll. Donald Ross' masterpiece is a euphoric amble thru the mature Carolina Pines, where the waves present themselves in the form of sand and tightly mowed Bermuda turf. Although the surrounds at No.2 lack the spectacular volatility of it's Pacific counterpart, it is a bit more balanced, and provides a smoother flow.
Course Design –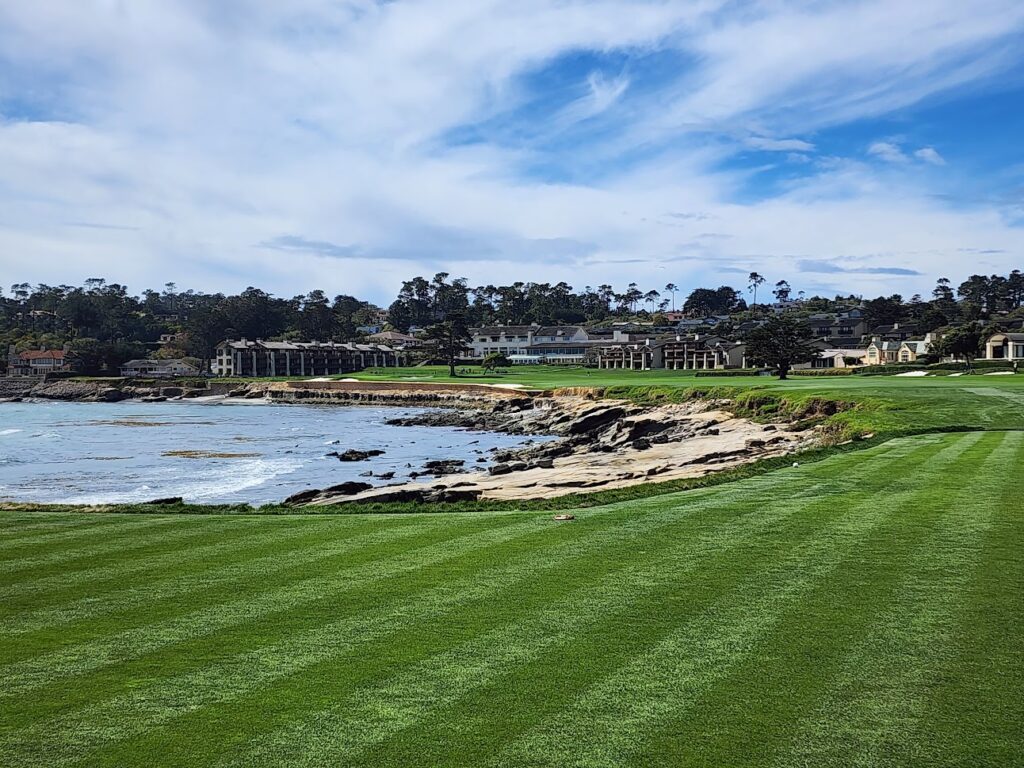 If Pebble is Led Zeppelin, No.2 is the Beatles. Pinehurst No.2 has no "B sides" (another 70's music reference) and offers a highly thought-provoking golf experience based on equal parts of strategy and imagination. At Pebble everything is played through the air, at No.2 playing along the ground is a major element of it's design. Contours, false fronts, and greenside runoffs are very much in play on every approach and shortgame recovery opportunity.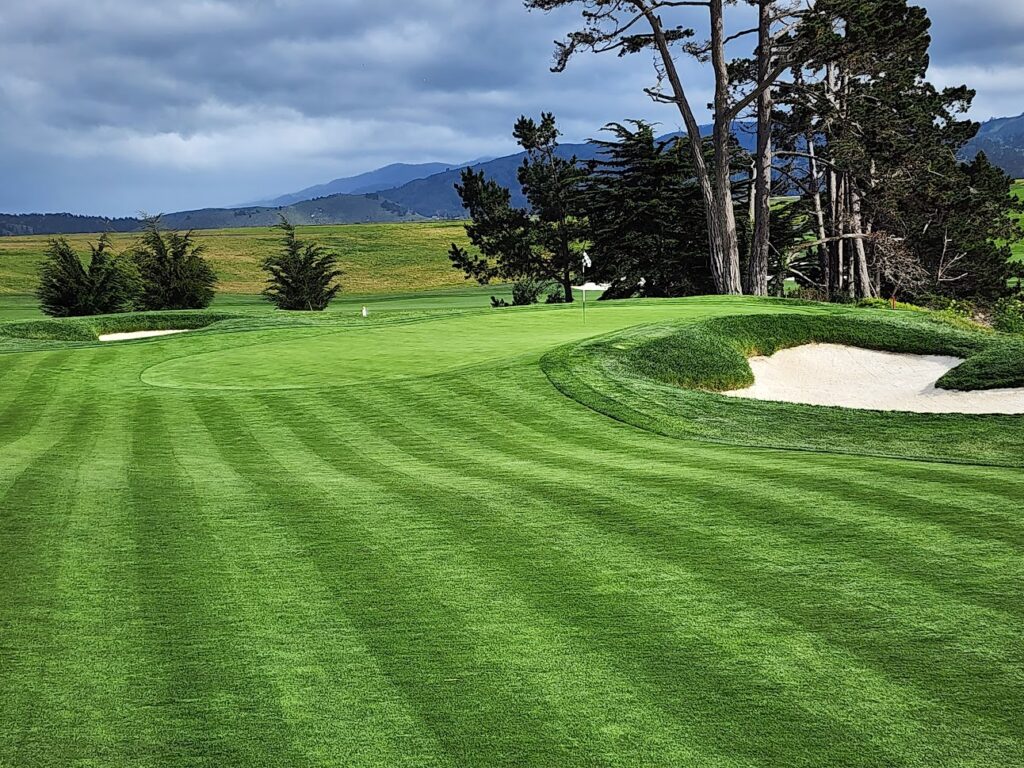 For those better players looking to challenge these two legendary layouts, they ask different things from your game. As the land gets dramatic along the coastline, the excitement and focus ratchets up at Pebble. If you can focus long enough on execution without being distracted by the scenery, Pebble asks the typical U.S Open questions – Can you hit it's semi-narrow fairways to stay out of the thick Rye rough? And can you execute pinpoint accurate approach shots to the smallest targets in championship golf?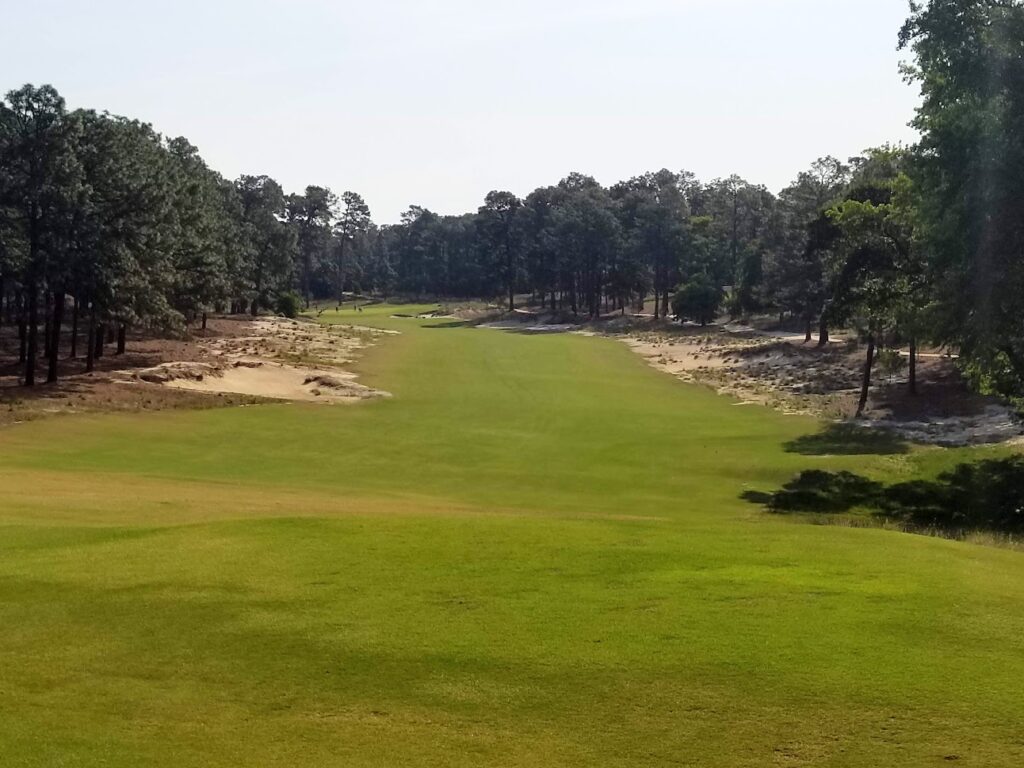 At No.2 Donald Ross routed as good an inland stretch as we have anywhere in the game and nowhere is that more evident than at holes 3 thru 5. The short 350 yard dogleg right par 4 third is complete finesse, followed by the sweeping downhill 4th (pictured above), a brute for the amateur player at 474 yards from the blue tees (that will play 529 yards as a par 4 in next year's U.S Open). In my opinion, one of the finest championship holes in America.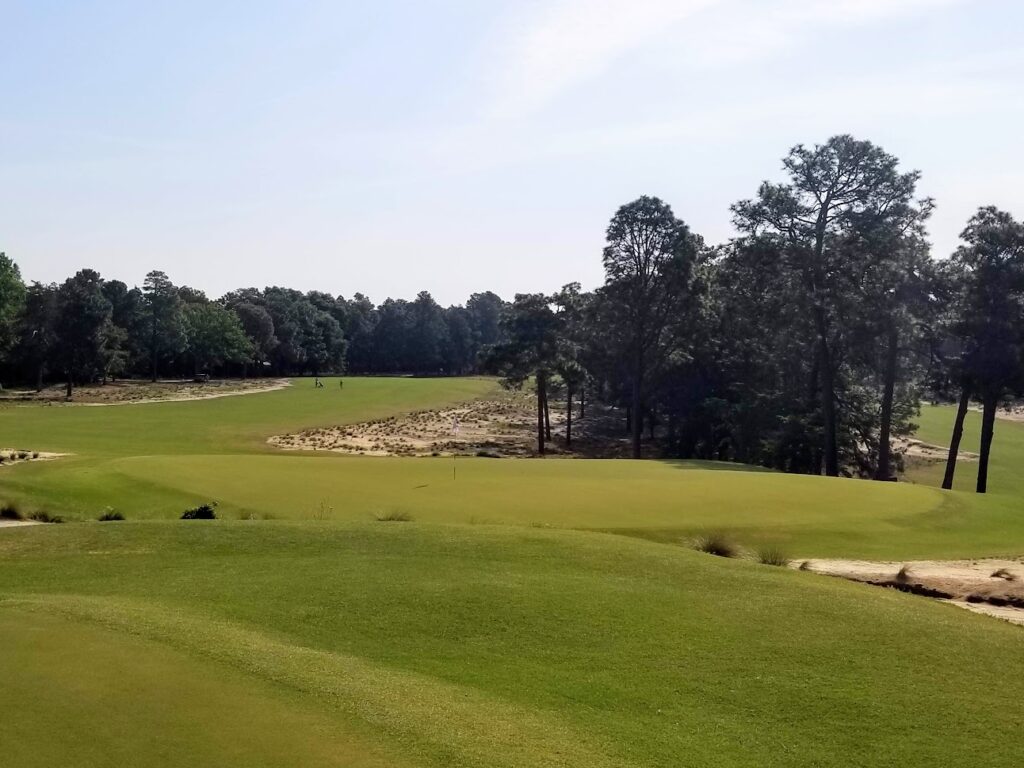 The new back tee at the 576 yard par 5 fifth plays a mere 508 for mortals. The hole rises from the tee, rolls back down and to the right before rising again on the approach to the most dynamic and confounding green on the property. Like most on No.2, the surface of all three holes are above the fairway grade with runoffs everywhere, only absolute precision will do. I was actually standing on the third green when taking the photo (above). Both greens along with the 4th tee share the same portion of the property, this intersection of brilliance is my favorite part of the routing. The setting is beautiful, but the Ross design is the star.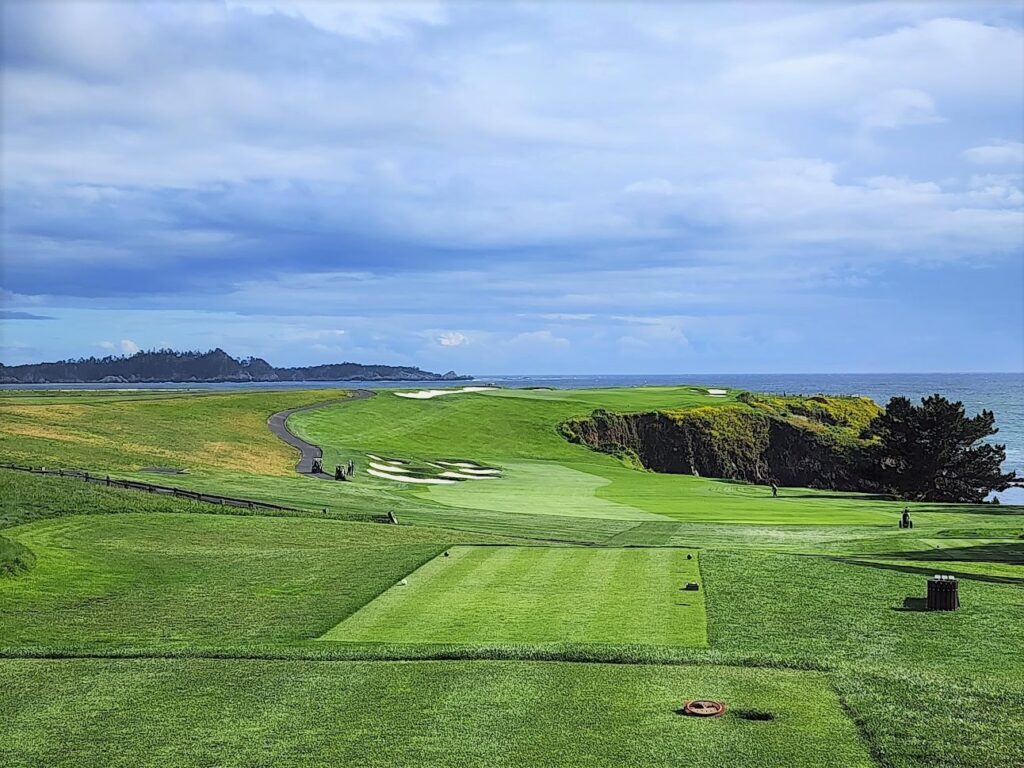 Playing conditions/Turf –
At Pebble Beach, Poa and Rye surfaces create a station to station type of playing experience, shots from the tee won't stray far from where they land, but the greens are kept very firm and anything less than a well struck approach shot will release off the tiny and well undulated putting surfaces into lush rough surrounds. Proper iron play is the key to playing well at Pebble.
Insider note: The Pebble Beach agronomy team will shrink the fairways a full seven months before the U.S Open and mowers are kept out of the rough six weeks before the championship. Public play is limited 30 days out, and two weeks out play on the golf course is reduced by 70%.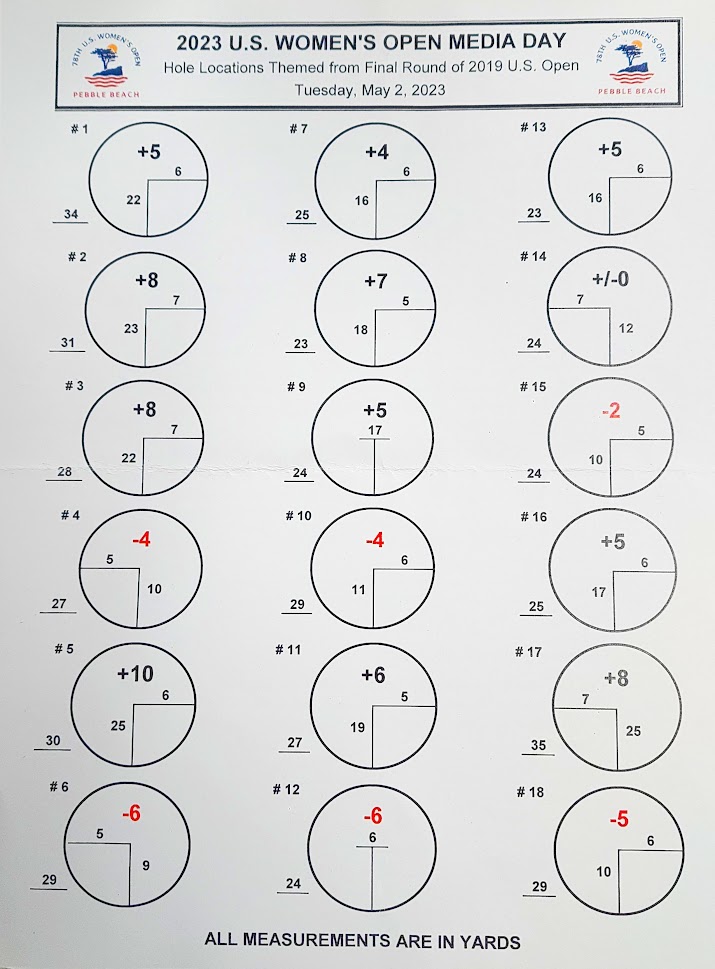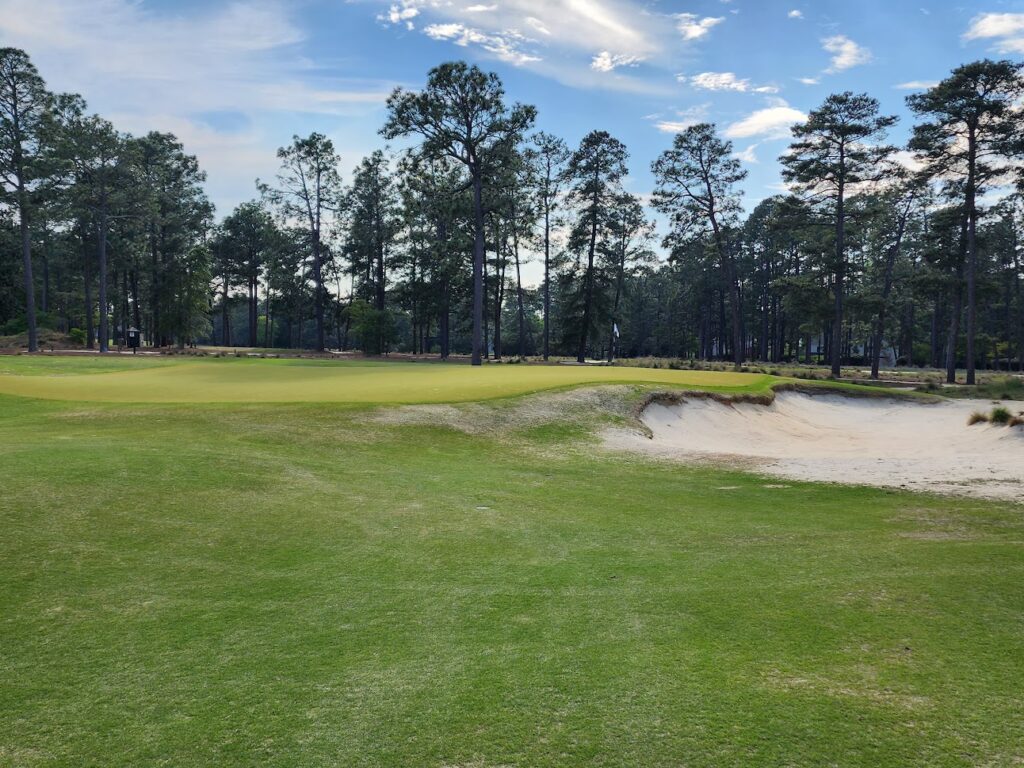 At Pinehurst, it's an entirely different playing experience. Ultra firm Bermuda turf conditions are kept lean and on the edge throughout the year. No water carry holes, and no thick rough here, tight lies and natural sandy areas on the edges are where the recovery shots are played from. Exquisite landforms and contours are in play virtually everywhere, making creativity an important attribute to have around No.2.
Insider Note: Pinehurst Director of Agronomy Bob Farren told me back in '21, "The turf, the greens, and the playing surfaces can host a U.S Open or major championship on any given day. One advantage for us is – we don't have to grow rough or narrow up the fairway widths, just play it!"
Additional Resort Golf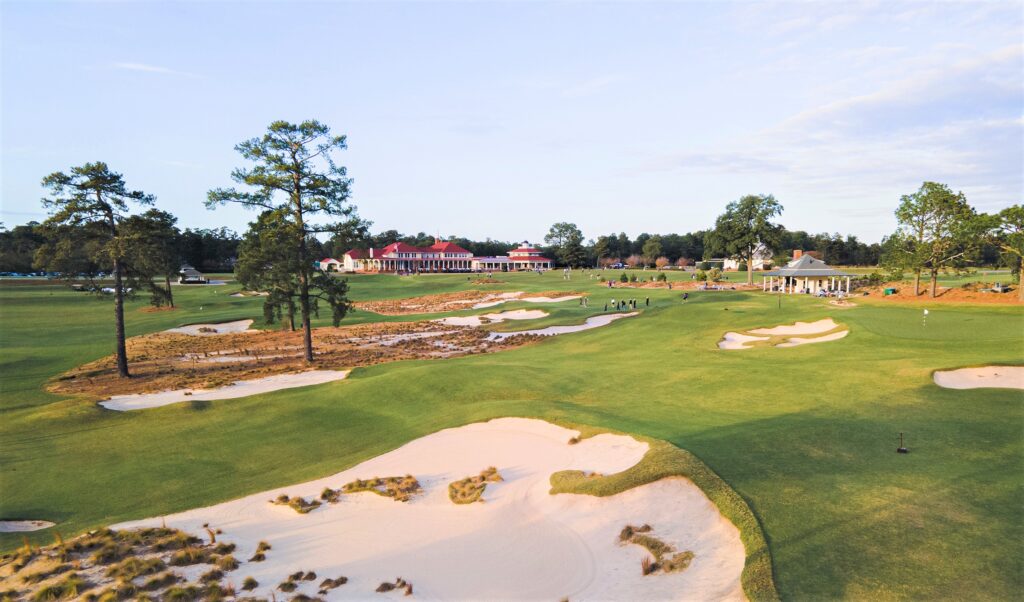 Abundant golf beyond the U.S Open layouts is available at both resorts, with Pinehurst leading the way with nine separate layouts. Their tenth track, (will it be named No.10?), a Tom Doak original will be completed later this year. Pebble Beach Resort offers up Spyglass Hill, Spanish Bay, and Del Monte to go with it's headliner, but it's the two short course venues – The Hay at Pebble Beach, and The Cradle at Pinehurst that have changed each resort in the most glowing way.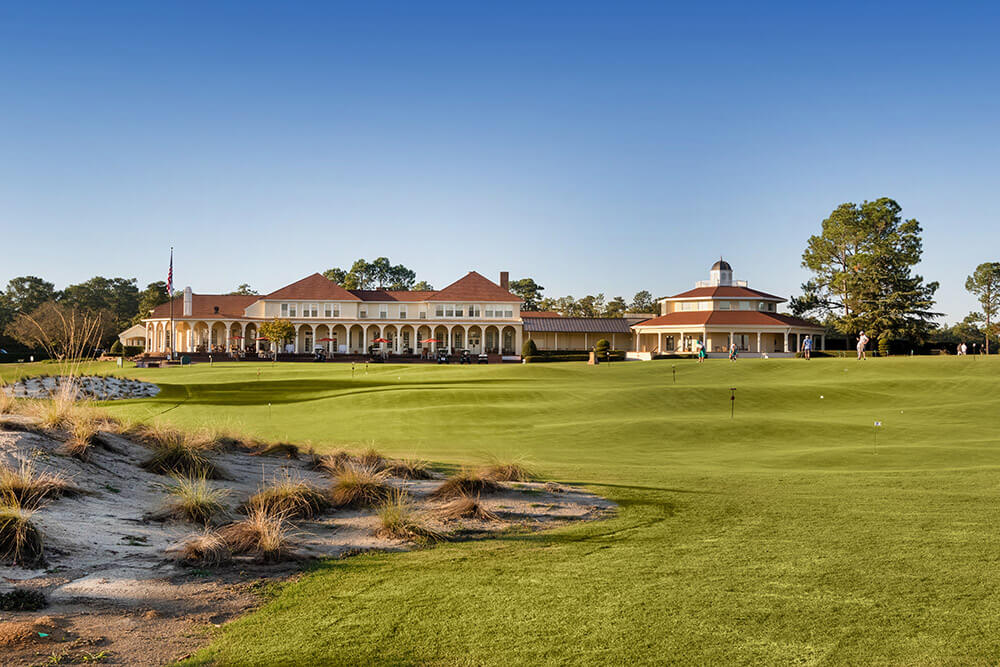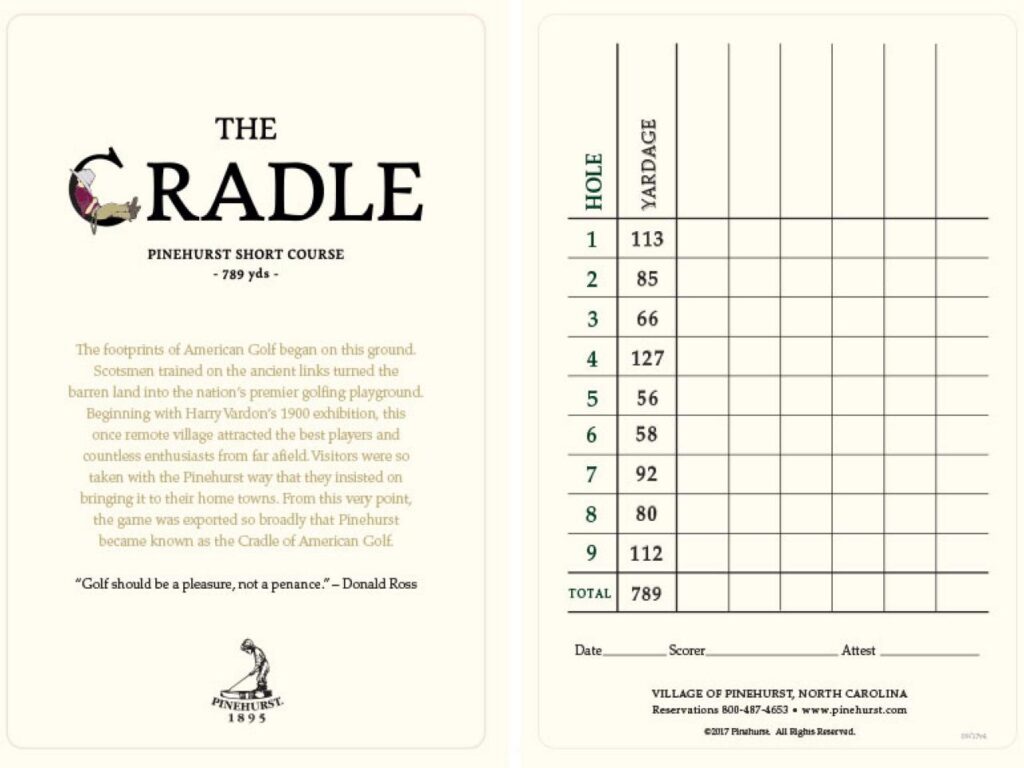 The Cradle is a 10 acre 789 yard smash hit, and its superb two-acre putting course Thistle Dhu, both designed by Gil Hanse and Jim Wagner. Juniors 17 & under accompanied by an adult play free.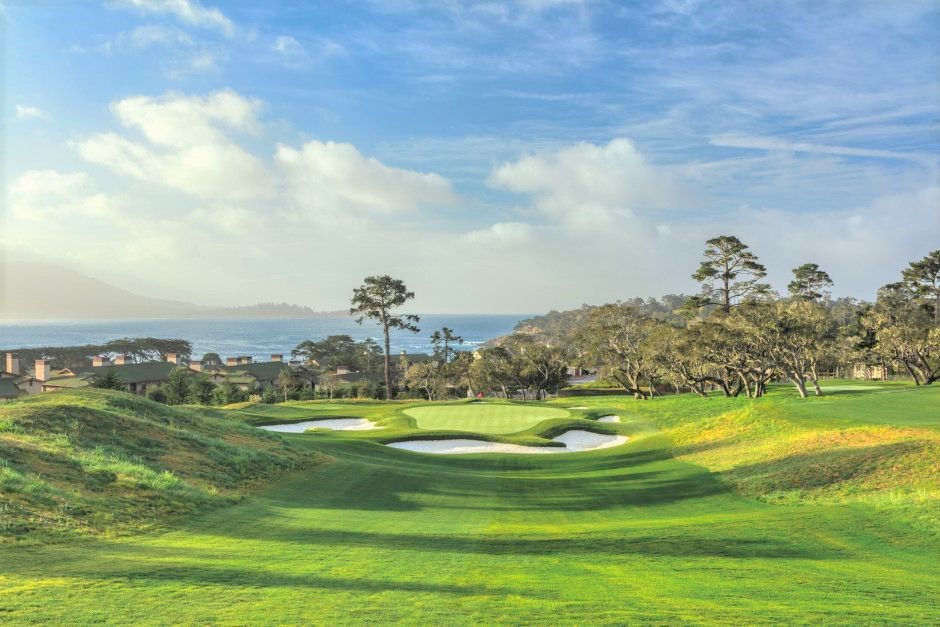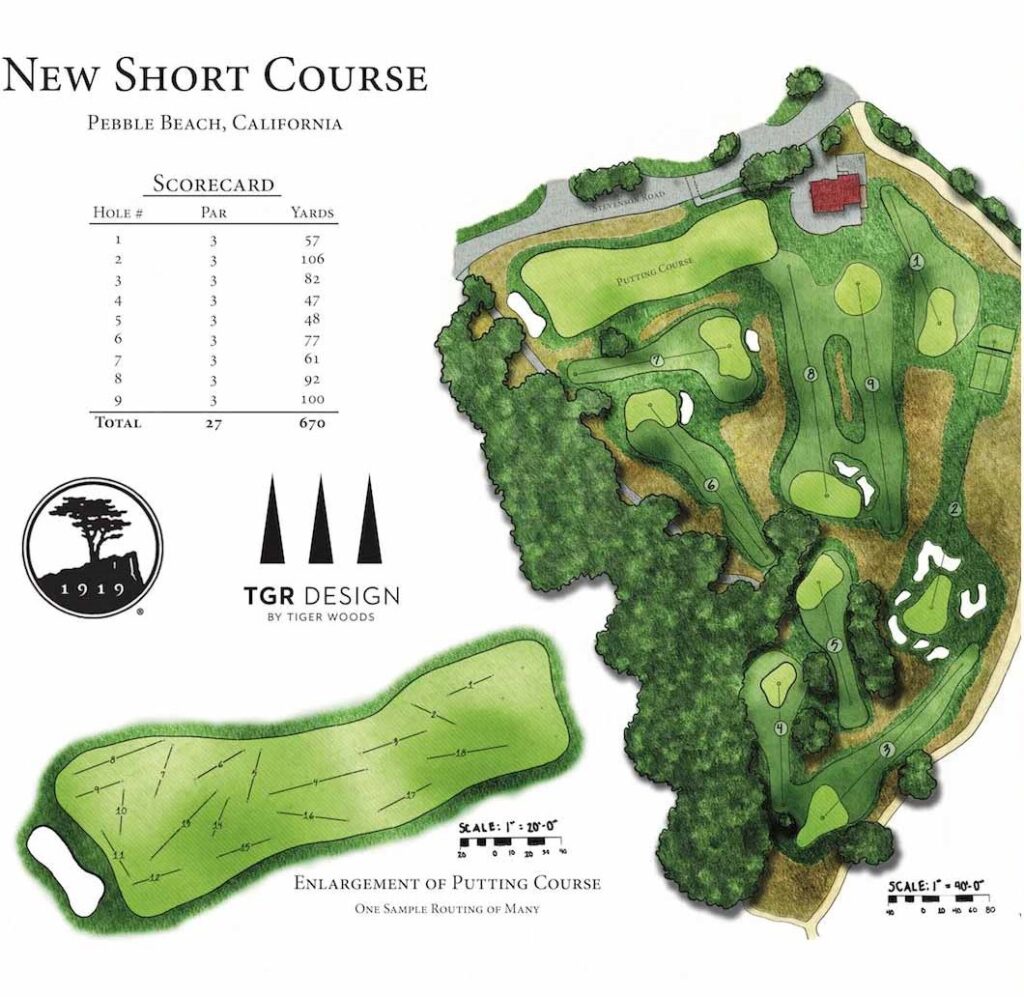 Pebble's new 670 yard 9-hole Hay Course and one-acre putting course designed by TGR (Beau Welling), has holes ranging in length from 47 to 106 yards. Both of these family oriented shortgame playgrounds offer a fun hang and a place to enjoy celebratory drinks, and tasty meals. Juniors 12 & under play free.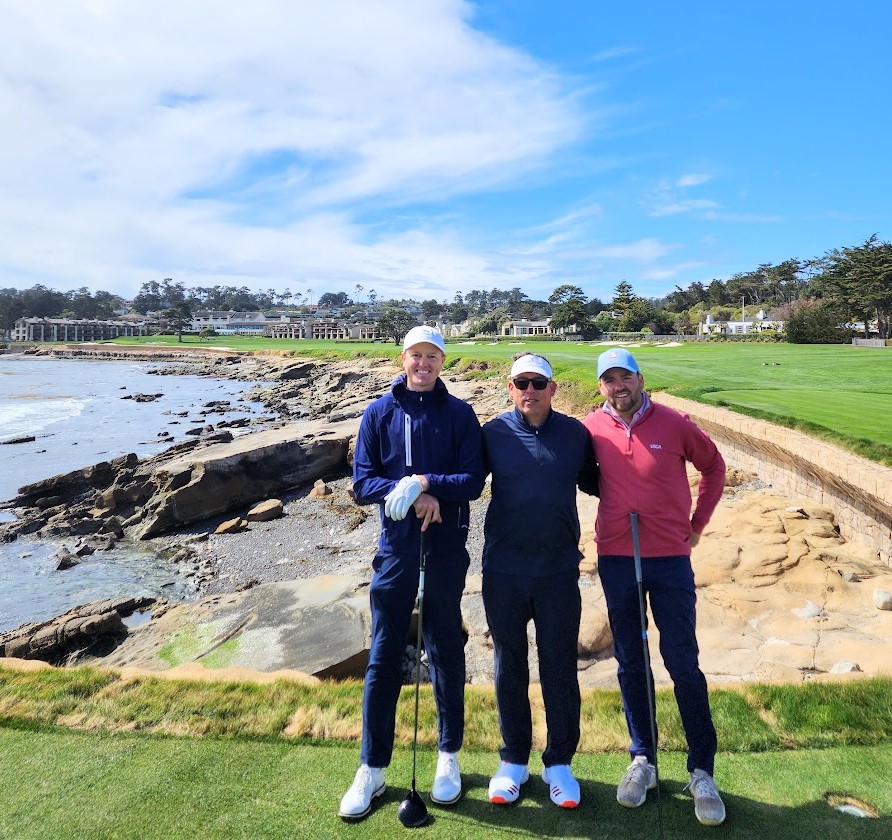 Summary – Both Pebble Beach and Pinehurst are bona fide bucket list destinations primarily because of their major championship venues, but with each having recently added value based family experiences (especially Pinehurst) the culture of each has a much welcomed fresh feel. Pebble Beach has the Pacific Ocean (in the form of Stillwater Cove), and Pinehurst has Donald Ross and a tremendous history of the game. The Village of Pinehurst and the Town of Carmel both exude a very quaint, charming atmosphere that even the non-golfer will enjoy.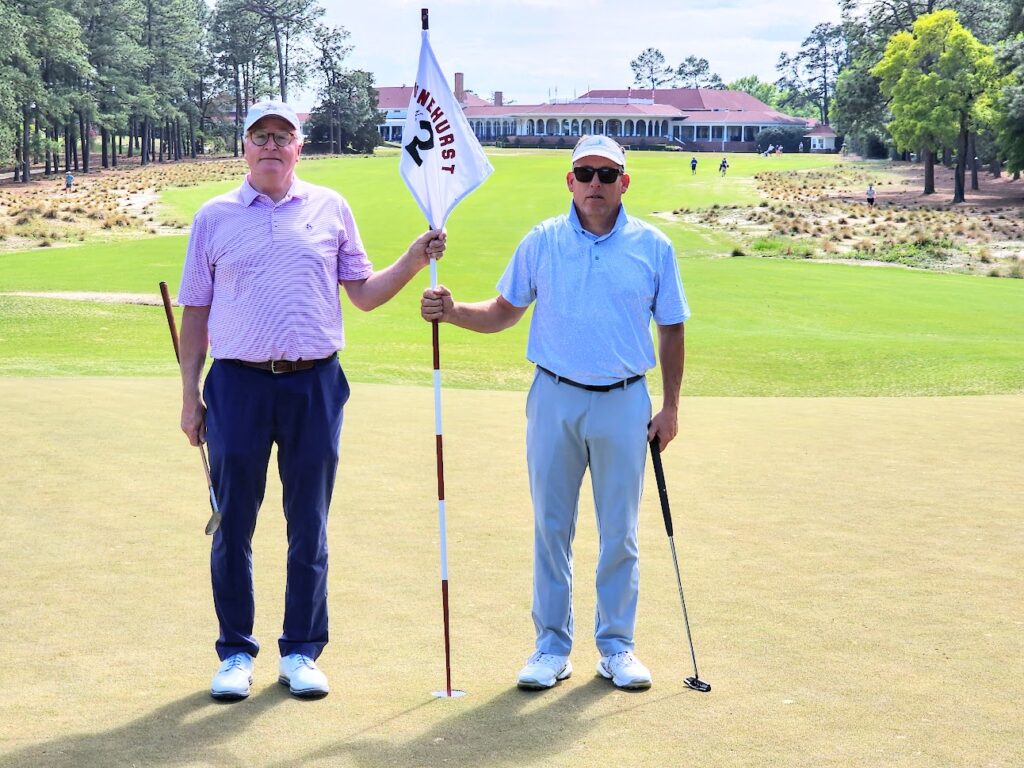 For the group looking build a buddies trip experience on a reasonable budget, join the resort's mailing list to see what is available and call the resort for package deals during the off-season or thru golf associations (like the FSGA email blast I presented earlier in this feature). If in town, don't be reluctant to see what's available for a walk up tee time, you'd be surprised. In the area last March, while having dinner in the Tap Room, I enquired (out of curiosity) about getting on the following afternoon at Pebble – and there was a few open slots on the tee sheet. It's expensive, but the memory will last forever. Enjoy!
For more info: https://www.pebblebeach.com/, https://www.pinehurst.com/ .