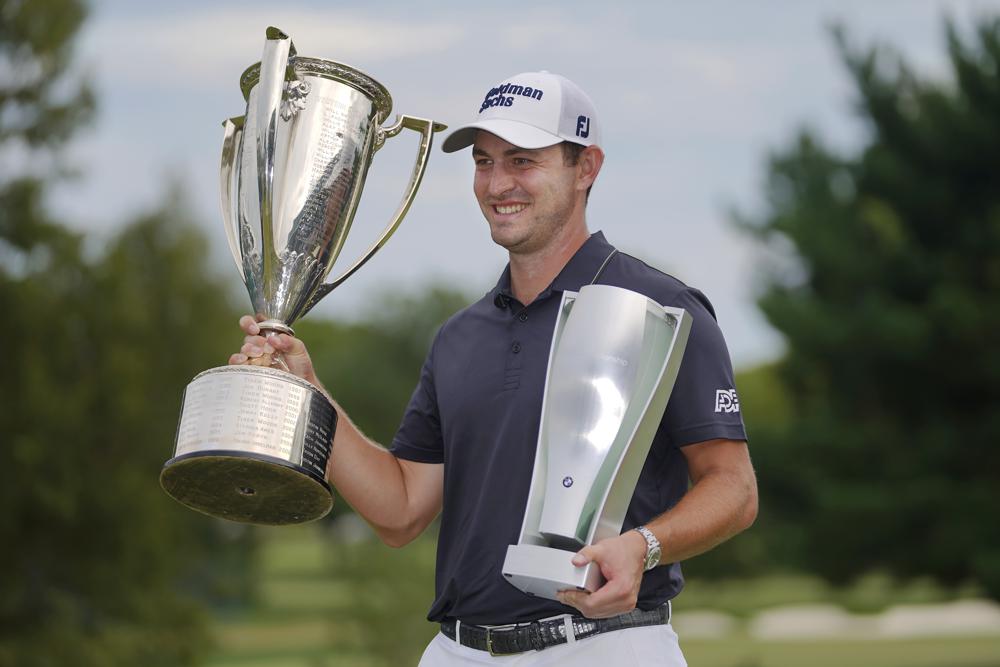 WILMINGTON, Del. (AP Report) — Patrick Cantlay won another thriller Sunday in the BMW Championship, getting a great bounce on the 17th hole that set up a short birdie and led to a 2-under 69 and a one-shot victory over Scott Stallings.
Cantlay became the first player to win the BMW Championship back-to-back since the FedEx Cup began in 2007. This was on a different course and he didn't have to go six playoff holes. He also doesn't have the FedEx Cup lead going to the finale next week at East Lake.
All that mattered was winning at Wilmington Country Club, but he needed a little help.
He was tied for the lead on the 420-yard 17th hole when he decided to hit driver, and he feared it would get hung up in a series of bunkers down the right side. But the ball landed short of the last under, took a big hop over the sand, and tumbled through the first cut and into the fairway just 64 yards from the hole.
Cantlay hit a spinner that skipped and stopped 5 feet from the flag, holed the birdie putt for the lead and then found the green on No. 18 from a fairway bunker.
A year ago, he made one clutch putt after another about an hour down the road at Caves Valley and beat Bryson DeChambeau. That gave him the top seed at the Tour Championship, which comes with a two-shot margin before the tournament starts, and Cantlay won the FedEx Cup and its $18 million prize with a one-shot win over Jon Rahm.
This time, he goes into the FedEx Cup finale as the No. 2 seed, meaning he will start next week two shots behind Masters champion Scottie Scheffler.
Scheffler put on a late charge with three birdies in a four holes and was one shot behind. But he missed a 4-foot par putt on the final hole for a 70.