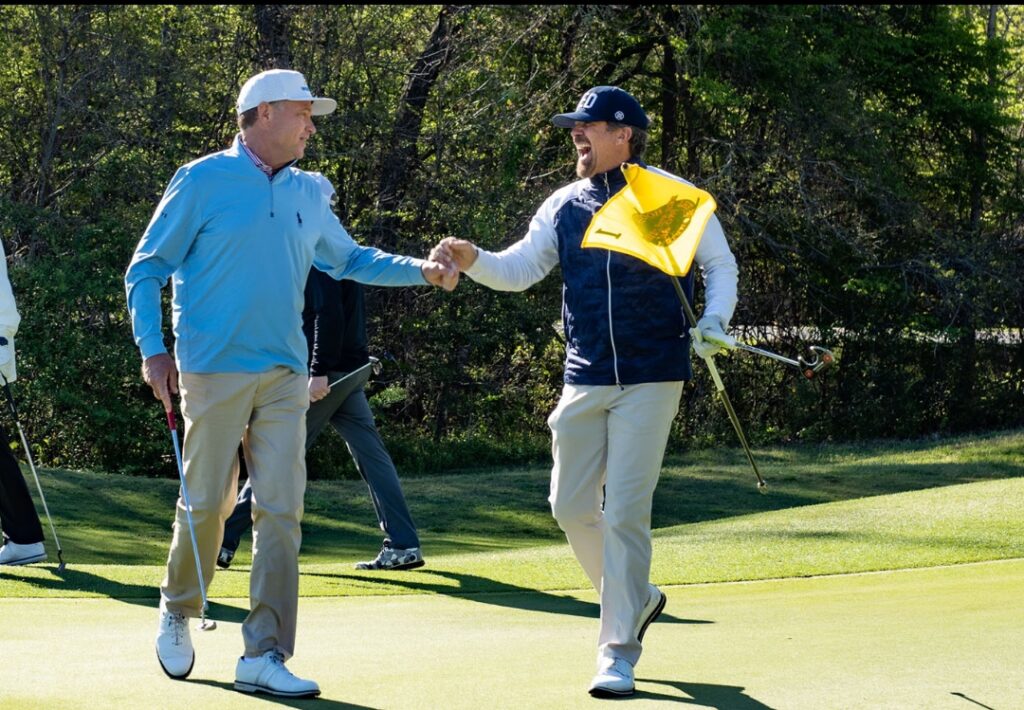 North Myrtle Beach, S.C. – The team led by professional golfer Conner Godsey and women's soccer legend Mia Hamm shot a 19-under par 53 and won a scorecard playoff to capture the 2022 Hootie & the Blowfish Monday After the Masters Celebrity Pro-Am on a sun-drenched Dye Course at Barefoot Resort & Golf.
Golfer Keenan Huskey and musician Preston Pohl captained a squad that equaled the 53 of Godsey and Hamm and finished second. Paige Spiranac, golf's most popular social media influencer, and World Series champion David Wells shot 54, a score matched by the team led by LPGA Tour player Kristy McPherson and musician Robert Randolph, to finish in a tie for third.
The Monday After the Masters returned after two-year, Covid-19 pandemic necessitated hiatus, much to the delight of players, with a slightly different format. For the first time, the event was played over two days, April 10-11, allowing for a more efficient tournament experience for participants.
Among the celebrities joining Hootie & the Blowfish members Darius Rucker, Dean Felber, Mark Bryan and Jim "Soni" Sonefeld at this year's event were former NBA slam dunk champion Spud Webb, country music stars Jamey Johnson and Jay DeMarcus and former NFL standouts Ed "Too Tall" Jones, Santonio Holmes and Sterling Sharpe.
Former Ryder Cup captain Davis Love III, World Golf Hall of Famer Nancy Lopez, and two-time major champion John Daly headlined the field of professional golfers competing in the event.
All proceeds from the MAM benefit the Hootie & the Blowfish Foundation, which supports the educational needs of children in South Carolina and the South Carolina Junior Golf Foundation through a fully funded endowment. One of golf's longest running and most successful charity events, the MAM has raised nearly $7.5 million since its inception in 1994.
For more information, visit HootieGolf.com.