LinksNation.com
| | | | |
| --- | --- | --- | --- |
| Jason Gets His Day - Wins PGA Championship | | | |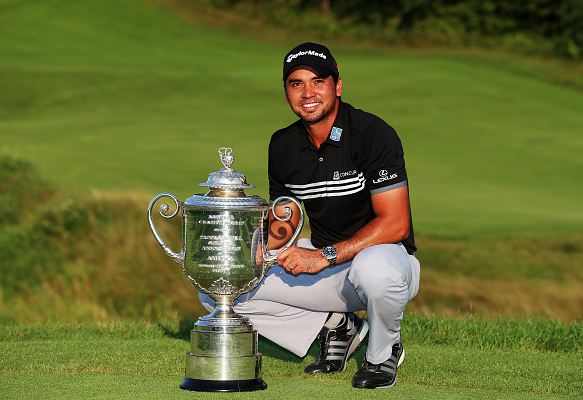 Jason Day celebrates winning the PGA Championship at Whistling Straits
Kohler, Wisconsin - After so many close calls, Jason Day has broken thru for his first
major championship - winning the 97th PGA Championship at Whistling Straits. Jason
Day set the all time major championship scoring record - (posting 20 under par) with
rounds of 68-67-66-67 on one of Pete Dye's toughest layouts. Although there were plenty
of highlights throughout the final round, Sunday lacked the drama of round three and the
past two majors - mainly because the 27 year old Aussie (who now hails from Columbus,
Ohio) played nearly flawless golf.
On a day when Jordan Spieth was lurking two shots back and attempting to win his third
major of 2015, it was JDay who played like the headliner on Sunday. Day dominated the
rugged terrain off lake Michigan with power and accurate ball striking, his 382 yard drive
down the middle on the eleventh left only a wedge into the par 5, and perhaps sent notice
to Spieth that this was not his major to win. Day had his hands on the steering wheel, it
was his to win or lose.
Spieth marveled at Day's performance "This was the easiest defeat I've ever had", Spieth
said. "I was never in control (of the championship) at any point during the round. We've
played in many major championship rounds together, it was the best I've ever seen him
play, it was a stripe show."
Although Spieth came up short on Sunday, his solo second place vaulted him to the
top of the Official World Golf Rankings. The 22 year old Texan admitted afterward "It's
been a lifelong goal of mine, and being No.1 is something that no one can ever take away
from me."
Day referring to Spieth "To be honest the kid just doesn't go away, he has no stance over
in the bunker (on 16) and hits it to a foot . . . it baffles me the stuff that he can prove out
there and obviously with the level of play that he's been playing at, it's no wonder that he's
No.1 in the world right now. To be able to hold him off - knowing that he's going to be the
best player in the world now, it felt great".
Scores: http://www.pga.com/pgachampionship/scoring/leaderboard
| | | | |
| --- | --- | --- | --- |
| Jordan Spieth Rules the 79th Masters | | | |
Bubba Watson puts the Green Jacket on new Masters Champion Jordan Spieth
Augusta, Georgia - When you're hot, you're hot . . . and Jordan Spieth is a 21 year
old inferno that's on top of the golfing world after going wire to wire at the 79th
Masters.
Spieth fired rounds of 64-66-70-70 to tie the all time record at Augusta National of
18 under par. Justin Rose and Phil Mickelson posed the only serious challenge on
Sunday shooting 70 and 69 respectively, finishing tied for second at -14. Spieth
never really seemed to be seriously threatened at any point during the final round.
Six Birdies (at the first, third, eighth, tenth, thirteenth and fifteenth holes) offset
bogeys at the fifth, seventh, twelfth and eighteenth.
It's been quite a tear for the Texan, who won the Australian Open and Hero World
Challenge last winter, and now two wins and two runner up finishes in his last four
events has put World No.1 Rory McIlroy on notice.
Spieth's win was the first wire to wire performance at Augusta National since Ray
Floyd in 1976. Although the final round lacked the drama that most hoped for, the
young American breathed new life into golf fans everywhere . . . especially those still
clinging to the fading days of the Tiger/Phil era.
"It was very nerve wracking today," Spieth said. "I thought today might be a little easier
than yesterday, having played around with the lead, but it wasn't. I didn't sleep well last
night. I just got out here, and got a little rhythm, saw a putt going the first hole . . . and
we were off with two major champions right behind, I couldn't let up."
It's the most incredible week of my life," Spieth said. "This is as great as it gets in our sport.
This is a dream come true for me. I didn't break 70 last year, even having a chance to win,
where I got edged out by Bubba here . . . but to shoot some low rounds and to see some
putts go in out here and to hear the roars, it was remarkable."
Masters Records that were set by Spieth this week:
- Most birdies (28)
- Lowest 36 hole score (-14)
- Lowest 54 hole score (-16)
- Tied for Lowest Tournament Score (-18)
Leaderboard: http://www.masters.com/en_US/index.html
| | | | |
| --- | --- | --- | --- |
| Who will win the 79th Masters? | | | |
By Jason Bruno
The 79th playing of the Masters has many notable storylines:
Rory McIlroy goes for the career Grand Slam and his fifth major championship.
Bubba Watson attempts to win his third Jacket in the last four years.
Tiger Woods returns after a long absence from competition - can he contend?
Jordan Spieth nearly won the Masters last year, what lessons did he learn?
Phil Mickelson can tie Woods with 4 titles, is that enough motivation to bring out his best?
Adam Scott goes back to the anchored broomstick this week, can he do it again?
With the exception of Woods, who's making another return from injury and swing/
shortgame issues, the other five are legit contenders. Who else in the field has a legit
chance to wear green on Sunday evening?
Is there any Masters magic left for Phil & Tiger?
There are six others that are primed to grab their first Green Jacket come Sunday:
Jimmy Walker might be playing the best golf of anyone on the planet right now, and
Augusta National sets up perfect for his high right to left ball flight.
Dustin Johnson for the same reasons as Walker is on the radar of many this week.
The question for DJ is on the greens (he's perhaps the most talented ball striker in the
field).
Rickie Fowler got a sniff in all four majors of 2014, but with a slow start this season
he's being overlooked - it's a bit of a gut call, but he has the goods to contend.
Henrik Stenson ranked #2 in the world, has done it all except win a major. The
Swede's game mimics that of Dustin Johnson - it's all about the flatstick for him.
Jason Day has been so close the last few years in majors, especially at Augusta
National. He's put in copious amounts of shortgame prep this year leading up to
this years Masters. I was able to spend sometime inside the ropes observing close
up at Bay Hill, he has all the shots and looks poised to break through. Only he
can get in his own way of one day winning his favorite event. The 27 year old
Aussie is our pick to win the 2015 Masters and bring another Green Jacket to the
people of Oz.
Under the Radar:
Brooks Koepka - Long hitting 24 year old playing in his first Masters.
Brandt Snedeker - Is his flatstick enough to compete with the bombers on what
likely will be a long wet track this week?
Keegan Bradley - He has the length, does he have the touch?
Sergio Garcia - Has all the physical skills, but does he believe?
Justin Rose - Tough start to 2015, but he's too good to not be a serious threat.
| | | | |
| --- | --- | --- | --- |
| Rukket Sports - Golf Nets | | | |
By Jason Bruno
If you're like me, practicing is a passion. The desire to stay competitive and continue improving
is never ending. Getting to the course or the range is often the biggest challenge for so many with
busy schedules...that's where Rukket Sports factors in. We first noticed the "Haack Net" (designed
by college coach Chris Haack) at the PGA Show in Orlando a few weeks back. Their golf nets are
really easy to construct, within minutes of unpacking the box, I was hitting golf shots.
One of the things rarely mentioned when considering purchasing a golf net for your personal
use is the amount of money saved on range balls (I only use premium urethane golf balls like
Pro V1's when I'm practicing at home) and the convenience of having it all outside your doorstep
. . . Rain or shine, indoor or out you can practice as much as you'd like. The Haack golf net is
constructed of five ply - 3/4 inch netting, steel and fiberglass frame. I especially liked the side
nets, keeps golf balls from rebounding away from the hitting area.
My personal set up at the compound sits beside my synthetic putting green. I use it to work
on fundamentals (I often use in junction with Zepp technology, that keeps track of swing plane,
swing speed, and tempo) and just the overall process without constantly getting hung up on
results. I prefer to start testing drivers here first to get a sense for how each feels before taking
to the course for further testing. The Rukket net is sturdier than the previous set up I had
installed previously, the only factor of concern is how well the frame will hold up to the South
Florida elements as compared to the PVC unit I used previously.
If you want to practice on your terms, Rukket Sports has a variety of golf nets and accessories
to help you set up your very own practice station.

Warning: Illegal string offset 'active' in /home/content/84/5782284/html/site/templates/siteground-j15-68/html/pagination.php on line 129

Warning: Illegal string offset 'active' in /home/content/84/5782284/html/site/templates/siteground-j15-68/html/pagination.php on line 135

Warning: Illegal string offset 'active' in /home/content/84/5782284/html/site/templates/siteground-j15-68/html/pagination.php on line 129

Warning: Illegal string offset 'active' in /home/content/84/5782284/html/site/templates/siteground-j15-68/html/pagination.php on line 135

Warning: Illegal string offset 'active' in /home/content/84/5782284/html/site/templates/siteground-j15-68/html/pagination.php on line 129

Warning: Illegal string offset 'active' in /home/content/84/5782284/html/site/templates/siteground-j15-68/html/pagination.php on line 135

Warning: Illegal string offset 'active' in /home/content/84/5782284/html/site/templates/siteground-j15-68/html/pagination.php on line 129

Warning: Illegal string offset 'active' in /home/content/84/5782284/html/site/templates/siteground-j15-68/html/pagination.php on line 135

Warning: Illegal string offset 'active' in /home/content/84/5782284/html/site/templates/siteground-j15-68/html/pagination.php on line 129

Warning: Illegal string offset 'active' in /home/content/84/5782284/html/site/templates/siteground-j15-68/html/pagination.php on line 135
« StartPrev

51

52535455NextEnd »


Page 51 of 55