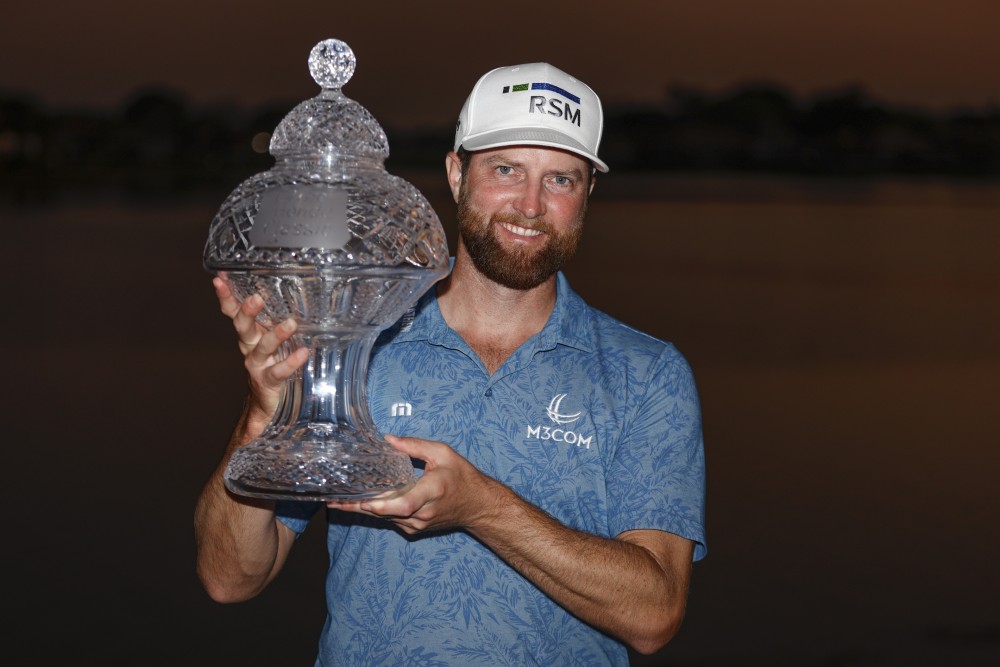 PALM BEACH GARDENS, Fla. — Chris Kirk's last victory on the PGA Tour came in 2015 at Colonial, and with a one shot lead on the 72nd hole on Sunday at PGA National it looked likely that he'd have to wait at least another week – after he rinsed his approach into the par 5 eighteenth. Challenger Eric Cole seemed in prime position to get up n down for birdie to snatch the title away, but when his chip ran out through the green, he only managed par to finish regulation in a tie at 14 under par (Kirk did have a 15 foot par putt to win after Cole failed in his bid to make birdie, but it slid by). Luckily, Kirk only had to wait one more hole to end his drought.
On the first hole of the sudden-death playoff, Cole bombed it down the middle, while Kirk was forced to lay up after driving it behind a palm tree in the right rough. Cole's 5 wood approach rolled through the green into the back bunker, and after laying up to wedge range, Kirk stuck his approach to within 18 inches for a certain birdie. The pressure then shifted back to Cole, who hit his lengthy bunker shot to within 12 feet, needing to make to extend the playoff, his putt lipped out. Kirk then tapped in for his fifth career PGA Tour title, ending a drama filled Sunday capping the 42 year run for what has been known as the Honda Classic.
"I was obviously very, very nervous today having not won in so long," Kirk said. "Coming down the stretch, I felt good."
Kirk shot 69 on Sunday, Cole fired a final round 67 to finish regulation at -14 (266 total).
Chris Kirk earned $1,512,000 for the win, and has gained entry into the Masters again for the first time in 7 years. Cole took home $915,600 for his runner-up finish, more than double his earnings in 14 previous starts on the PGA Tour.