The KING Forged TEC and Forged TECx Irons blend a new 5-step forged body and AI face with game-improving technologies for a softer feel with added forgiveness in a striking new black finish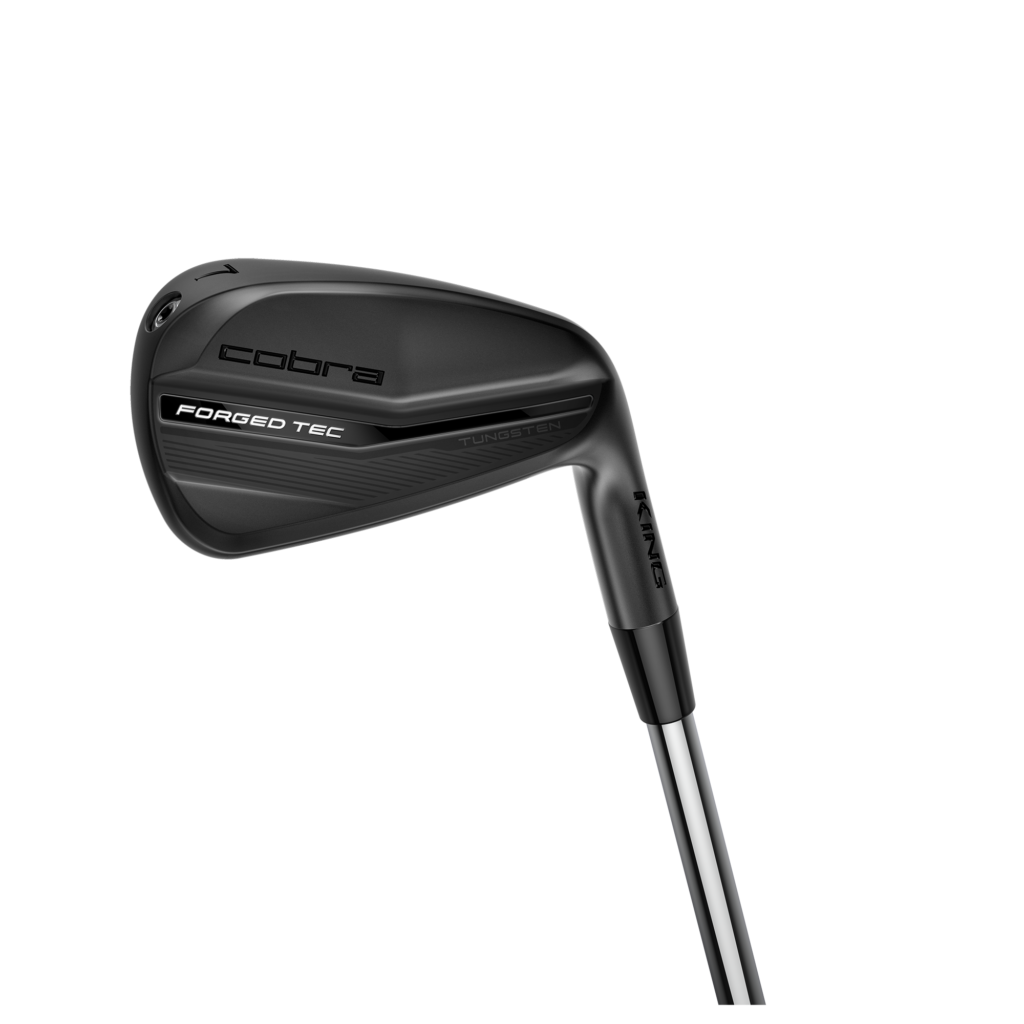 Carlsbad, Calif. (March 15, 2023) – COBRA Golf today unveiled the limited-edition KING Forged TEC Black Irons, whichwill be available in both Forged TEC and Forged TECx models.Like the recently launched Forged TEC chrome irons, the Forged TEC Black fall into the "player's distance," category and are designed for better players from low to mid handicaps. The irons feature three significant improvements over the previous generation Forged TEC irons including a new AI PWRSHELL HOT FACE design, a sleeker topline with reduced offset, and a lighter and softer foam material for improved sound and feel. The irons also feature a hollow body design with tungsten weighting and PWRSHELL technology that together provide enhanced distance with improved stability in a more compact shape.
The limited-edition Forged TEC Black irons feature a military grade DBM (Diamondized Black Metal) finish, which delivers more resistance to corrosion, scratches and normal wear than any other carbon steel black finish that's available on the market today. The finish is chemically implanted into the metal to enhance surface hardness for durability while maintaining the soft feel of the 5-step forged 1025 carbon steel. The new TEC irons are shaped with a thinner topline, reduced offset and more compact toe box to create a preferred player's look at address. The iron's hollow body design is filled with Expancel microspheres, a lighter and softer foam material that promotes face flexion for more ball speed and distance as well as improved sound, feel and feedback. Each iron in the set also features forged PWRSHELL HOT FACE technology to create maximum speed and high launch. A 20g tungsten toe weight is included on the mid and long irons that centers the CG perfectly in the middle of the face, yielding a pure feel at impact and added stability on off-center hits.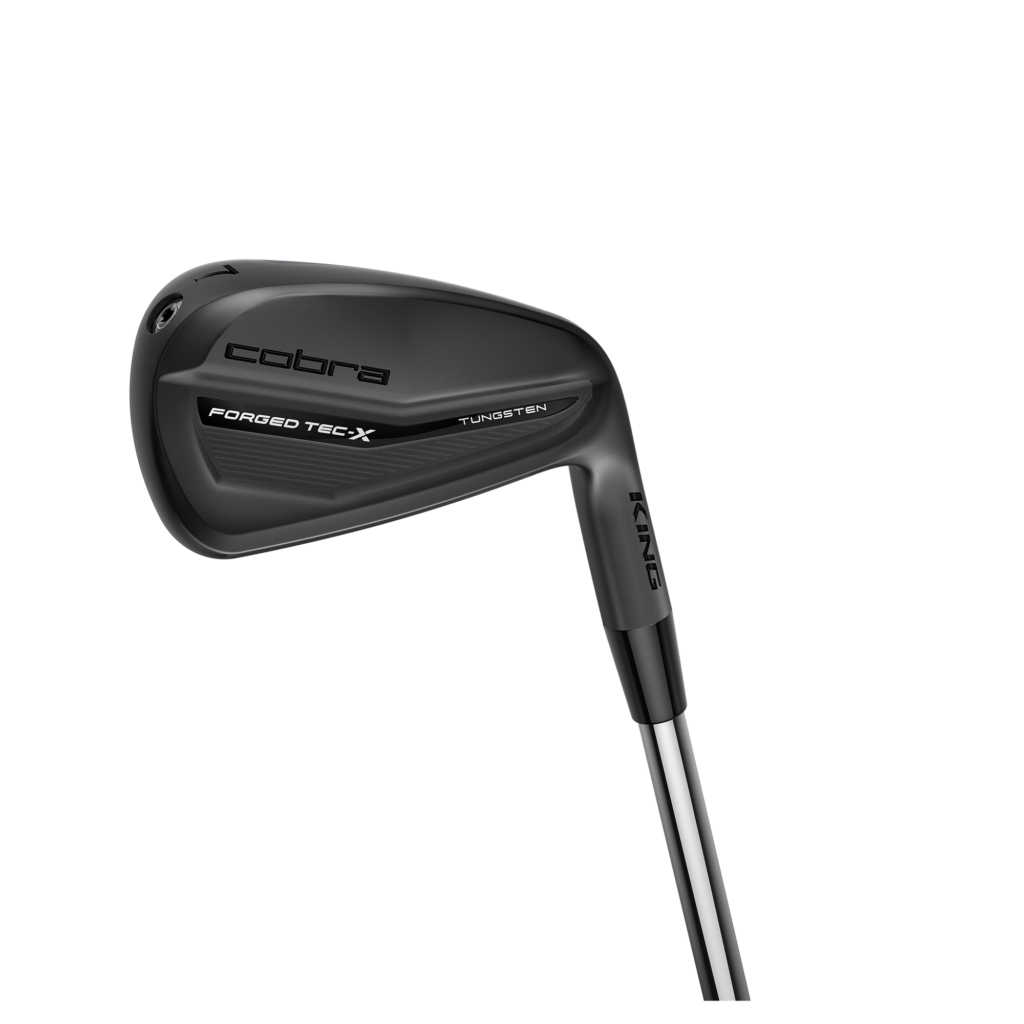 The Forged TECx is the Forged TEC's more forgiving counterpart and is designed for mid to higher handicaps. The TECx features a lower CG design, a slightly thicker topline, larger head size and stronger lofts than the standard Forged TEC irons. The TECx also features a hollow body and foam insert design that utilizes a massive 65g tungsten weight (45g more than standard TEC irons) on the mid and long irons to lower CG and maximize stability for higher launch angles and longer carry distance. The Limited Edition TECx irons utilize an industry leading new raw QPQ finish (Quench-Polish-Quench). QPQ is a durable heat treatment process that turns the substrate of the irons into an oxidized black finish. The result, like the DBM process, is a great feeling yet durable black finish.
The limited-edition Forged TEC Black variable length irons (MAP: $1,299; steel; $1,399 graphite) are available in a 7-piece (4-PW) set in right hand. The steel KBS $-Taper Lite shaft is offered in both regular (R110) and stiff (S115) flexes.  A graphite offering is available through custom only with the KBS TGI 75 (Reg Flex) and 85 (Stiff & X Stiff).  Each set comes stock with Lamkin Crossline grips in black/silver with multiple no-charge and up-charge custom shaft and grip upgrades available.
The Forged TECx Irons (MAP: $1,299; steel; $1,399 graphite) are available through custom in a RH 7-piece (4-PW) set in Stiff & Regular in both steel and graphite options. The irons feature a KBS Tour Lite shaft (Steel; 102g in Stiff/Reg) and a Lamkin Crossline STD grip. The graphite version comes equipped with KBS TGI 85 (stiff) or 75 (reg) shafts. Multiple no-charge and up-charge shaft and grip offerings are available through custom.
The KING Forged TEC Black and Forged TECx Black will be available at retail and at cobragolf.com beginning March 15, 2023.
For more information on the entire KING family of products, visit cobragolf.com.