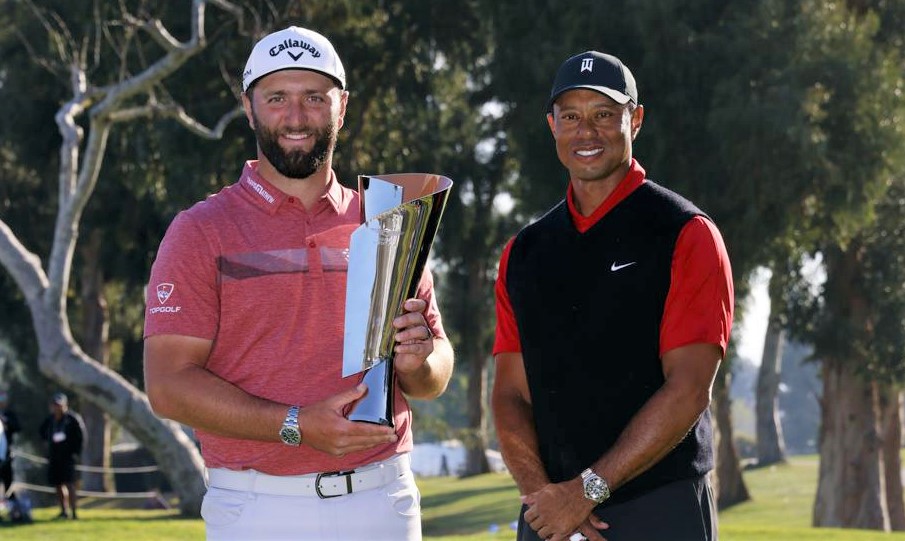 LOS ANGELES (AP) — Jon Rahm returned to No. 1 in the world Sunday by winning the Genesis Invitational with a performance that left no doubt who's playing the best golf.
Caught in a battle with hometown favorite Max Homa at Riviera, Rahm delivered two big moments with a 45-foot birdie putt from the fringe on the par-3 14th and then a tee shot to 2 feet for birdie on the par-3 16th.
He closed with a 2-under 69 for a two-shot victory over Homa, finishing at 17-under 267.
"Pretty incredible," Rahm said. "(To win) at a golf course with this legacy, this history and hosted by Tiger Woods, is such an honor."
Patrick Cantlay got within one shot on the back nine until two bogeys. He had a 67 to finish alone in third, moving him to No. 4 in the world.
Woods had four bogeys in an eight-hole stretch and shot 73 to tie for 45th.
His success was measured in progress. It was his first time playing 72 holes since the Masters last April — Woods only played twice more since then as he tries to cope with leg and back injuries that will make PGA Tour appearances rare. He did not know if he would play again before the Masters.
Woods still had the largest gallery all the way to the end, thousands of fans packed on the hill over the 18th green to watch him close out with a par in that familiar red shirt under a black vest.
And then the spectators turned their attention to a terrific duel between Rahm and Homa, each with two victories on the PGA Tour this season.
Rahm now has five wins in his last nine starts worldwide, dating to his win in the Spanish Open. He has not finished out of the top 10 in his last 10 tournaments. It was his third win in five starts on the PGA Tour this year, and he already has earned more than $9 million the last two months.
Scores: https://www.pgatour.com/tournaments/2023/the-genesis-invitational/R2023007/leaderboard