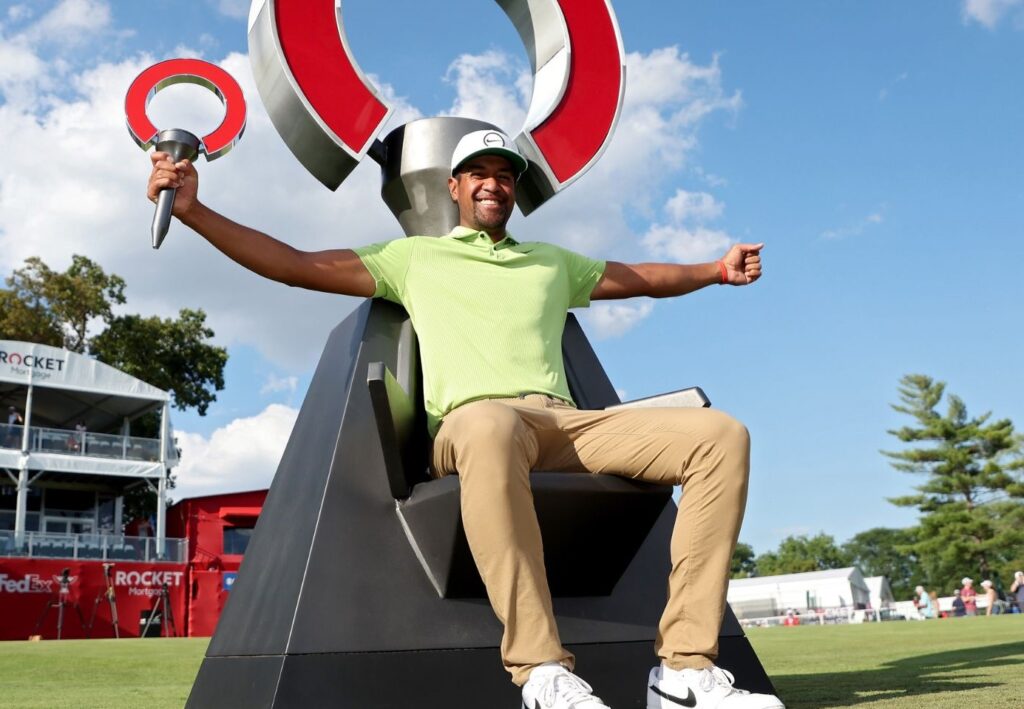 Detroit, Michigan – One week after winning in Minnesota at the 3M Open, Tony Finau closed strong again – firing a final round 67 to winning in back to back weeks, this victory came in Detroit at the Rocket Mortgage Classic. Finau finished with a new tournament record of 26-under par, five strokes better than Patrick Cantlay (66), Cameron Young (68), and Taylor Pendrith (72).
"I'm very optimistic," Finau said. "I've always been that way. I've always had hope and faith that things will turn out if I just keep working hard and putting myself there."
"I'm proud of the way that I fought through adversity through my career," he said, "and now I'm a back-to-back champion. … They say a winner is just a loser that just kept on trying, and that's me to a T. How many times do I lose? But one thing I won't do is give up and I'm only here as a winner because I chose not to give up and just keep going."
The player last to win in back-to-back starts was Xander Schauffele earlier this summer at the Travelers in Connecticut and the Scottish Open, the last to win in back-to-back weeks is Brendon Todd in 2019.
"I've seen rounds this good, but to do it for 144 holes and win back-to-back is impressive," Mark Urbanek (Finau's caddie) said. "We talked before the round that if he can take care of the par 5s and coast the rest of the way, be patient and get our looks, it would be really hard for someone to catch him. I mean, Taylor could, but anybody else was going to have to shoot 9 or 10 under."
Finau hit 46 of 56 fairways and 66 of 72 greens in regulation and, not surprisingly, led the field in Strokes Gained: Tee-to-Green. He was 6-for-6 in scrambling for the week, also first in the field, and ranked 15th in Strokes Gained: Putting (+4.478).
Hard to believe, but he didn't love Detroit Golf Club the first time he saw it. (He tied for 53rd in 2020.) It's a classic, tree-lined Donald Ross, and Finau was curving the ball so much he had trouble keeping it in the fairway. He and his coach, Boyd Summerhays, worked hard to fix that.
"He still shapes it," Urbanek said, "but no more than the width of a fairway. He's not having to start it over the trees and try to bring it back."
Added Finau, "I'm a lot better than I was just a couple years ago."
Finau's fourth career win moved him up ten spots to No. 7 on the FedExCup Playoffs.