By Jason Bruno
Do u walk or ride when u play? For many, it's a complicated answer. It often depends on where you live or where you're traveling to play, or what time of the year it is – weather wise. Whatever your answer is, Zero Friction has the solution.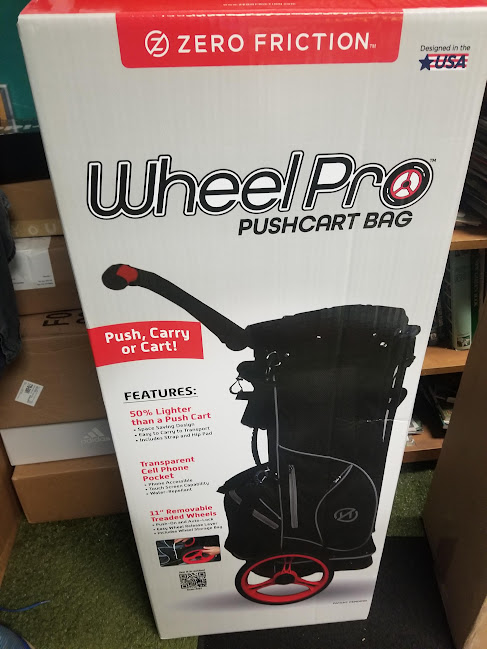 Back at last year's PGA Show in Orlando, we got our first glimpse of Zero Friction's Wheel Pro (at the time it was in the prototype stage), an innovative golf bag that is a hybrid of sorts – equal parts carry bag, cart bag and push cart combined in one product. John Iacono, owner of Zero Friction, and his team continue developing "outside the box" products to take your golf experience to the next level.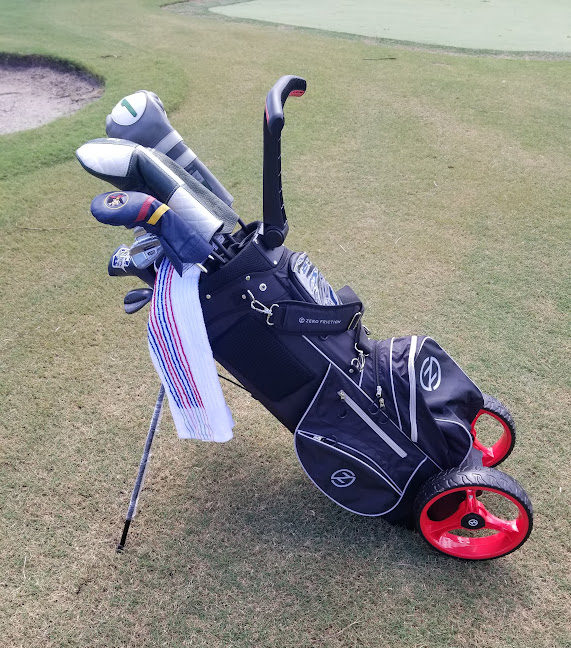 Recently we got our hands on our own Wheel Pro and didn't waste much time getting it out there to test. In our initial voyage we put it through the paces of all three operations – Cart bag, carry bag and push cart. As you can see in the photo above, the bag features a " T " handle that pivots to 90 & 130-degree vertical positions (and also folds down for carrying and cart use (see below).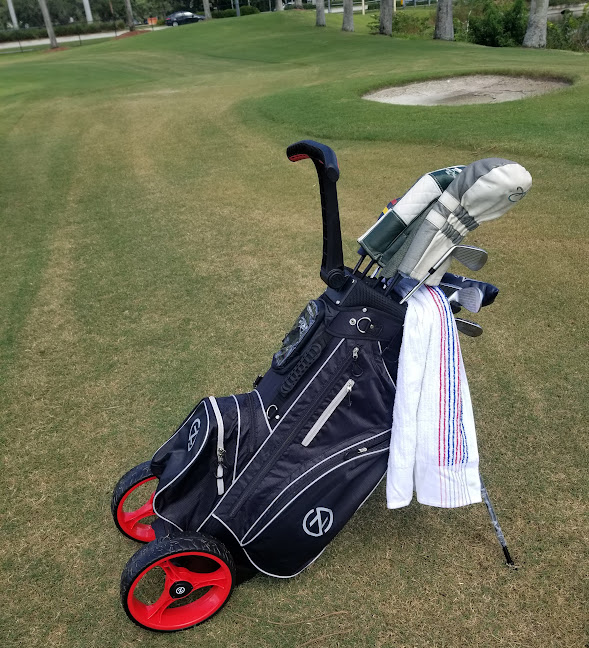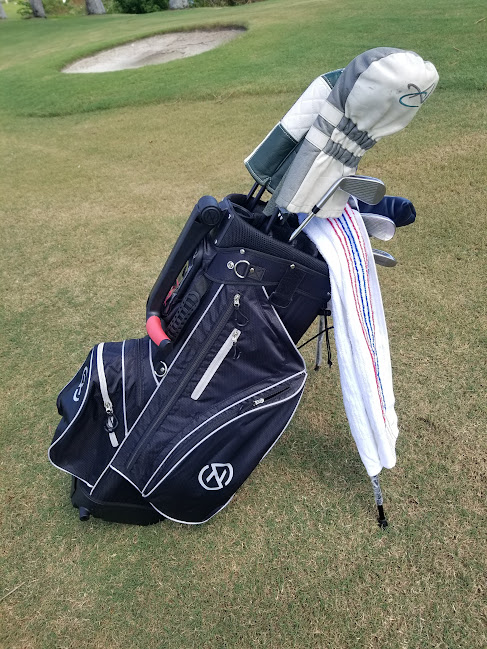 To use as a carry bag, simply push the handle button and lower the handle down into the folded position. To remove the 11-inch removable wheels, pull up the locking lever at the bottom base to unlock the wheels and remove them. Simple as that, the bag quickly becomes a cart bag or carry bag. The wheels easily reassemble in seconds. 3 color choices available.
Features: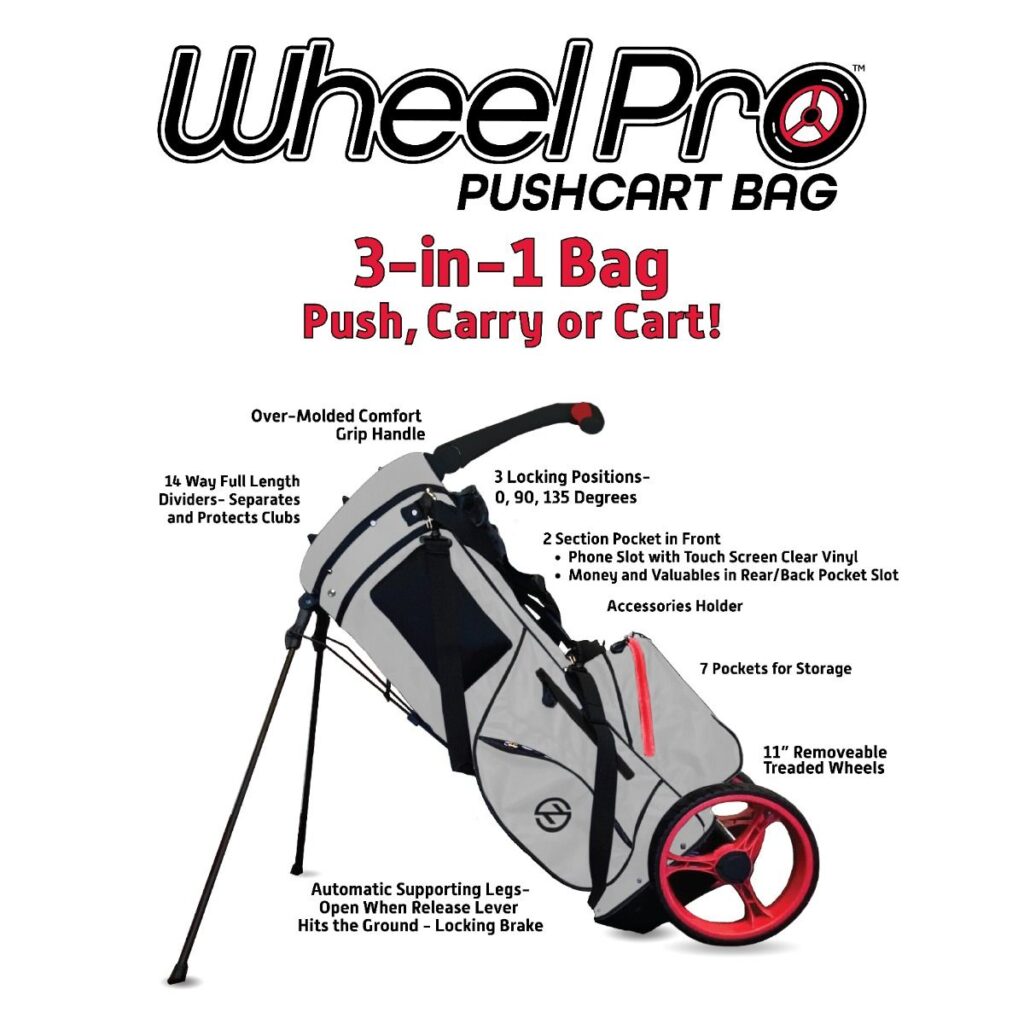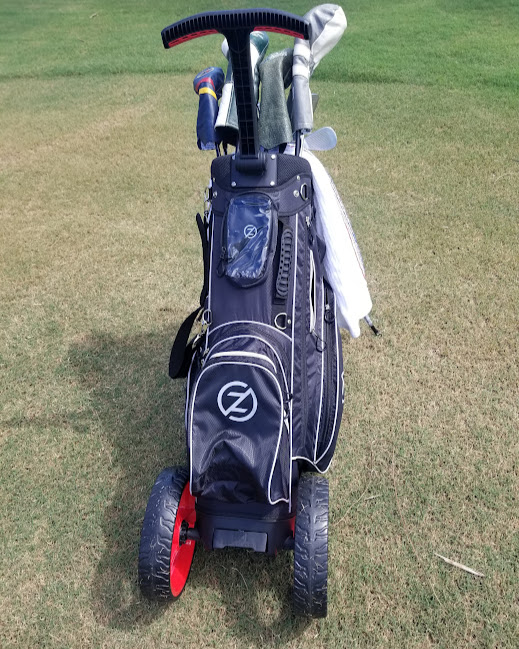 Transparent vinyl cell phone pocket allows for touchscreen access, rubber grab-n-go carry handles and an enormous bottom ball pocket are all features that add to the versatility of the Wheel Pro.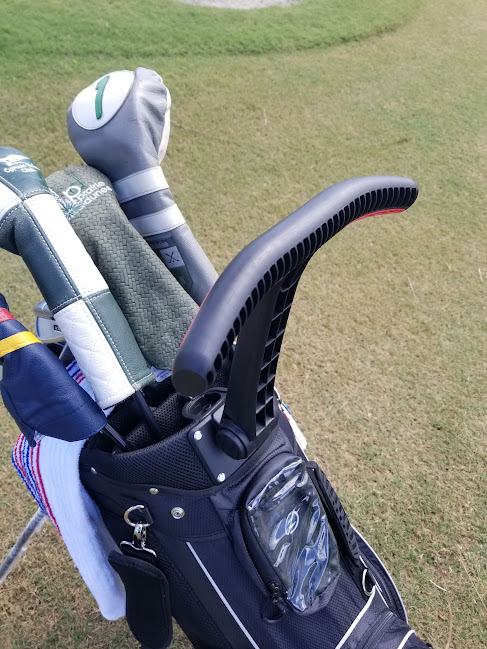 Close-up view of the handle mechanism, clear cell phone pocket, and umbrella mount port. The 14-way full-club dividers help organize and protect your sticks.
Testing: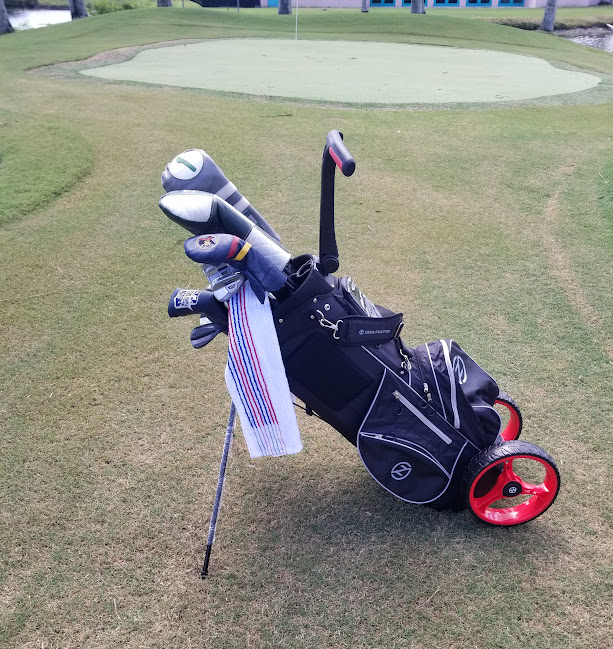 Our first session with the Wheel Pro took place at The Saints course in Port St.Lucie, Florida on a busy Friday afternoon twilight round. We broke up the testing in six-hole intervals – push cart/carry bag/cart bag. The bag passed each session with flying colors, but what impressed us the most was how quickly you could transition from one phase to another – literally 30 seconds to go from carry bag to cart bag. The 11 inch wheels are stout and roll over any uneven and dodgy terrain. The bag is sturdy but lightweight, the 7 pockets are well-positioned and roomy, and the 14-way club divider enables the protection of graphite shafts and those who just prefer an organized setup. The "T" handle is done right and is super easy to reposition. The see-thru cell phone pocket is a cool feature, and will accommodate most devices, but isn't quite roomy enough for my new mammoth Samsung Galaxy s22 Ultra.
Summary:
If you're the type of golfer that demands versatility in how and where you play, the Wheel Pro is for you. Here in Palm Beach we're a bit different than most places, riding in the summer is most common because of the intense heat and frequent afternoon thunderstorms, and in the fall/winter we prefer to walk whenever possible. Also, for those who play a bunch while traveling, the Wheel Pro is perfect. For example, when we return next year to Tacoma for the walking solstice event at Chambers Bay and later in August across the pond for our LinksNation Ireland Adventure, the Wheel Pro will be making the journey.
MSRP – $349 (we've seen it on Amazon for as low as $289).
For more info: https://zerofriction.com/wheel-pro-pushcart-bag