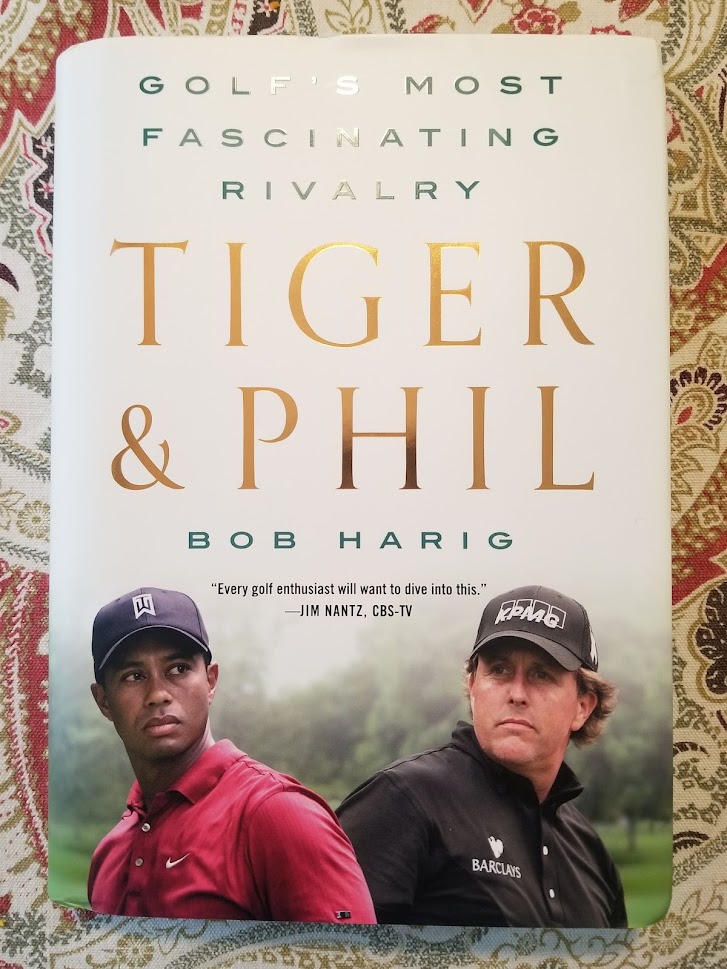 One of the finest golf writers and reporters of our time, Bob Harig recently launched his book – Tiger & Phil Golf's Most Fascinating Rivalry. Not many have spent as much time these past three decades on the tour around these two modern golf superstars as Harig, and his in depth accounts of so many behind the scenes moments takes you on a ride through the early 90's to present day.
Harig is known by most for his accurate reporting, and stories on tour when he was a golf insider for ESPN. His contacts and trust within the tour's elite players was probably second only to the late Tim Rosaforte. There are so many notable passages and quotes that I found myself placing sticky tabs on every few pages to mark the highlights, here's a few gems from the book:
2000 US Open Pebble Beach – practice round (Paul Goydos). He played a practice round with Woods, along with O'Meara and John Cook on Wednesday. He predicted afterward to a couple of reporters that woods would win by 10. "They scoffed at me," Goydos recalled. "I remember walking away knowing there was nothing I could do to what he was doing."
Goydos offered up an example for the 12th hole, a par-3. "The green is rock hard, and the green is not very big, he said. "I can't hit a shot that carries the bunker and stays on the green. It's 200 yards downhill. I hit a 4 iron, and I flew the bunker, and it one-bounced and went into the rough over the green. So Tiger gets up there and hits a shot straight up into the air. And it flies over the bunker and stops four feet from the flag. I looked at him thinking he hit 7 iron, and I asked him what he hit, and he goes '4 iron'. "What? The ball had reentry burns on the way down. He had such control of the ball. He took 20 yards off it, threw it straight in the air, and hit it exactly as far as he wanted."
"Okay, then we get to 18. It's reachable (in two shots) in the summer. I had 230 to the front and hit 3 wood into that green. And Tiger was on the right side of the fairway, about 230 from the green, and he has an iron in his hand, and he hits this rocket to the green. It lands on the green near my ball. So we're walking up , and I ask him what he hit . 'Four iron'. 'What?' He hits 4 iron as far as I hit my 4 iron, and he hits 4 iron as far as I hit my 3 wood. That's not even fair. He hit a 4 iron 195 on 12 and a 4 iron 230 into 18 and landed both exactly where he wanted to. I remember thinking, 'What are we doing here?' That's crazy golf"
1999 Masters – practice round (Mickelson and John Huston team up against John Daly and Tim Herron)It was a simple best-ball game, meaning low score of each team counted. And when it got to the 18th hole, Mickelson and Huston had already closed out the match. Daly asked if they could play the last hole for double or nothing. Of course, Mickelson and Huston were more than happy to do so.
"Phil was just so into it," Huston recalled. "And losing didn't bother him. He enjoyed the winning so much that the losing was okay because he just enjoyed beating us way more. Still does." Playing Augusta's National's 18th hole that day, Daly hit his approach to the par-4 green, with the cup on the front right. He hit it past the pin and saw it spin back to within inches for a certain birdie and what appeared to be a winning hole for him and Herron. That would mean squaring the bet: at worst, the final hole wager would be halved. Huston had other ideas. He too knocked his approach close. Only it rolled into the cup for an eagle. And it got better the next day.
"Daly came out with David Duval, who was No.1 in the world at that time," Huston said. "It was pretty interesting." Daly figured he'd found a ringer and was willing to double down on his efforts to recoup the prior day's losses. Mickelson and Huston were up to that challenge too. They produced a best-ball score of 25 for Augusta's 10th through 18th holes. And they cleaned up on a couple of guys who had to wonder what hit them. Under the rules of their wager, the losers were required to pay up that day, in cash. And the sum was considerable, even for professional golfers. Huston recalled it coming to $14,000 each, "which back then was pretty big money." Daly left Augusta National, presumably to get the money, and later came chugging down Magnolia Lane in a Cadillac courtesy car. He noticed Mickelson on the range that bordered the club's entrance at the time, stopped the vehicle, and got out and handed over the money – in a brown shopping bag. The Lords of Augusta National, if they witnessed this display, cringed.
Huston, who was playing in the Par 3 Contest, laughed at the memory of that scene.
2019 Masters Sunday evening after his fifth Masters victory and 15th major – It was in the Champions Locker Room that Woods would have noticed a note Phil Mickelson left for him. Written on an Augusta National cocktail napkin and left at Woods' locker, it read: "Tiger, so impressive! What a great tournament you played! So very happy for you! Phil."
Summary:
Tiger & Phil is such a worthy read for any fan of golf, whether it be of the casual variety or one that's heavily invested every week in the tour. Whether you're a fan of the Big Cat or root for Lefty, from the moment you start the ride, Harig keeps you engaged and locked in through each and every phase of their rivalry.
Tiger & Phil can be found at Amazon, Barnes & Noble and other fine outlets where books are sold.